How Vegan Milker Works in 6 Easy Steps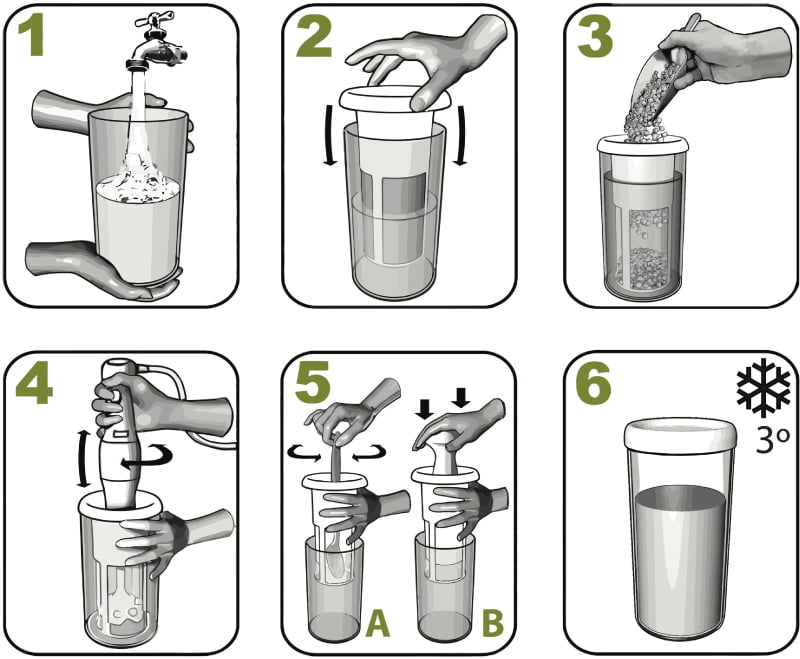 Once you've blended the seeds with your hand blender:
Raise the filter above the milk in the jar and – this is VERY important – don't press with the mortar straight away.
If you do so, pulp will spill everywhere as shown in the video.
There are two ways to press the pulp:
Method 1: Use a kitchen spatula or spoon to stir the milk and pulp mixture until most of the liquid has leaked. Then, you're free to use the mortar.
Method 2: Slowly drop the mortar on top of the milk until the liquid has leaked and you're left with mostly pulp. Then you can press with the mortar to release the last few droplets.
In case you've blended the seeds in a blender or food processor.
First, pour the liquid inside the filter attached to the jar. Then, you can use method one or two.
2. How to clean the filter
Check out this real-time video to see how to clean the video in less than 1 minute.
Some milks tend to be more slimy, such as oat, flax and coconut, so they need to be cleaned with warm water.
If you've been using the filter for a while, you'll see that the mesh part closer to the border it's getting darker. It might look like it's rusty, but that's not the case, since the mesh is made from the best quality stainless steel (360L).
So if you want your filter to last a lifetime, simply soak it in lukewarm water with some baking soda (2 tbsp. of baking soda per litre of water) and kindly wash the mesh with a toothbrush or toothpick.
You don't need to do this everyday, only when you start seeing the dirt layer forming.