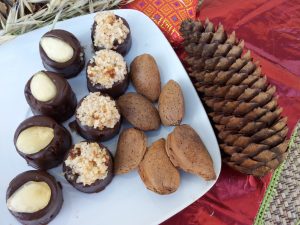 I was making some hot chocolate with oat almond milk the other idea, and it occurred to me that I could use that very same milk to make some healthy bon bons, which are so holiday appropiate!
This was quite a fun home experiment, but they turned out so well nonetheless! Every step of the process is an actual recipe, so you will be getting not one but three recipes in this post. And they won't take longer than an hour! Let's get into it:
Step one: make some homemade almond oat date milk.
Ingredients:
40 grams rolled oats
40 grams white almond, peeled
2 dates
A pinch of salt
Instructions:
Fill the chufamix jar with 1 litre of hot water (60º-80ºC).
Attach the filter with all of the ingredients inside and use a hand blender to mix the ingredients, which should take about one minute.
Let milk chill for 5 to 10 minutes.
De-attach the filtering jar and press the pulp with the mortar to squeeze the last drops of milk.
You can use the pulp to do some baking (you'll find some really cool pulp recipes on our blog) or add it to soup, stews or even tacos!
Let's go on:
Step 2: Make an almond oat hot chocolate: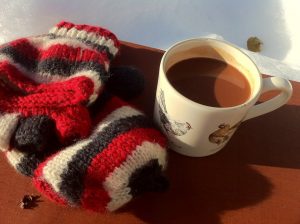 Ingredients:
1 litre homemade almond oat milk
250 grams fair-trade cacao powder
3 tablespoons agave syrup (you may use your favourite sweetener)
Orange zest (optional)
Instructions:
Heat milk on low-medium heat in a saucepan.
When warm, add cacao powder, syrup and orange zest if using.
Stir often for 20 minutes so that all the ingredients are fully combined, making sure the mixture doesn't boil. Should it start boiling, remove saucepan from heat, stir and then heat again. It's really important to stir mixture often and keep an eye on it so it doesn't burn.
If the chocolate isn't sweet enough for you, feel free to add a bit more sweetener, or even spice, such as cinnamon and vanilla.
More info about hot chocolates through this article "delicious hot chocolates made with homemade plant milk"
Step 3: Make chocolate bon bons
Ingredients (makes 16 small bon bons)
¼ litre hot chocolate
25 grams white almonds, peeled
bon bons mold
Instructions:
Blend the almonds into small chunks, but do not reduce them to flour.
Fill each mold with a bit of the almond mixture and add the remaining part to the hot chocolate.
Fill the molds with hot chocolate and cover them with film paper before putting them inside the freezer. This is really important so the chocolate won't pick up the smell from inside your freezer.
These bon bons should be un-molded right few minutes before serving.
Tips and tricks:
You can use your favourite nut or seed instead of the almonds. Sunflower seeds or pumpkin seeds would be really nice!
If you'd like to get some "surprise", place a hazelnut in the centre of the mold right before filling them with the chocolate.
If you don't have any mold on hand, you can also use a baking pan or similar and make a homemade chocolate bar.
We hope you enjoy experimenting with this very fun recipe!