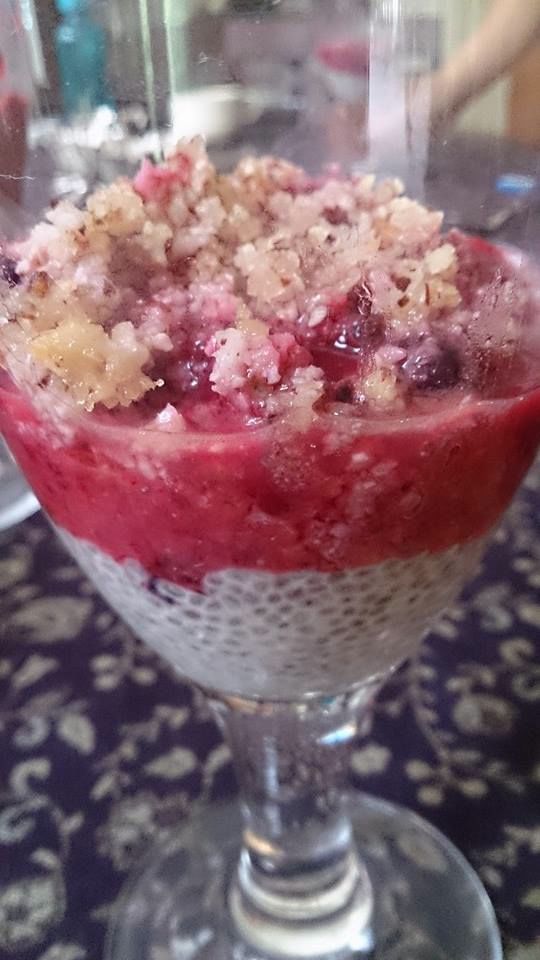 This recipe is made using homemade almond milk and the pulp of this vegan milk. It´s gluten free, sugar free, dairy free recipe, very high in protein, but not syrup free…
Don´t forget than the berries are packed with antioxidants !
It is an aportation of our Malasian distributor Maizan Ahern, a really nice cooker from
How to make homemade almond milk:
1 cup of almonds (soaked overnight)
750 ml of filtered water
1 pitted date
Make the almond milk using Chufamix. Take 3 minutes beating to obtain more creamy milk.
How to make chia seed pudding:
¼ cup of chia seeds
1 cup of almond milk (above)
Put chia seeds into the glass or cup. Add the almond milk and stir until all the chia seeds are well mixed with the milk (don´t get clumps of chía seeds).
Leave for at least 30 minutes. You´ll get like a gel texture grainy pudding with chía seeds. You can add more milk if you like a runnier mixture.
You have to options: consume it inmediately or keep it in the fridge for about 3 days.
Mixed berry compote
4 cups of frozen berries that you choice.
3 tablespoon of maple syrup / honey / agave
1-2 tablespoon of lemon juice (optional )
Place frozen berries into a pan and simmer slowly till warmed (about 30 minutes)
Leave to cool
Add the sweetener (you can add more sweet if your kids like it)
Add the lemon juice (this helps keeping it longer in the fridge).
Almond milk pulp crumble topping:
1 cup of almond pulp (dried in the oven at 150ºC for about 20 minutes, if yu don´t , the
crumble topiing will be too wet!)
½ cup of quinoa flakes
2 tablespoon of maple syrup or raw coconut sugar
2 tablespoon of virgin coconut oil (or butter if you are not vegan)
Mix all the ingredients till forms a nice mixture.
Place it on a baking tray and bake slowly at 150ºC for about 15-20 minutes.
After this time it must be brown and crispy.
You can keep it in a glass jar in the fridge for up to a week.
To assemble the chia pudding
Put 3 tablespoon of almond pudding in glass, bowl or recycled jam jars.
Add 1 or 2 tablespoon of berry compote on the top and let juices run for change the pudding colour.
Top with gluten free almond crumble topping.
Enjoy tasting pure flavours and as our friend Maizan says,
Peace & Light!