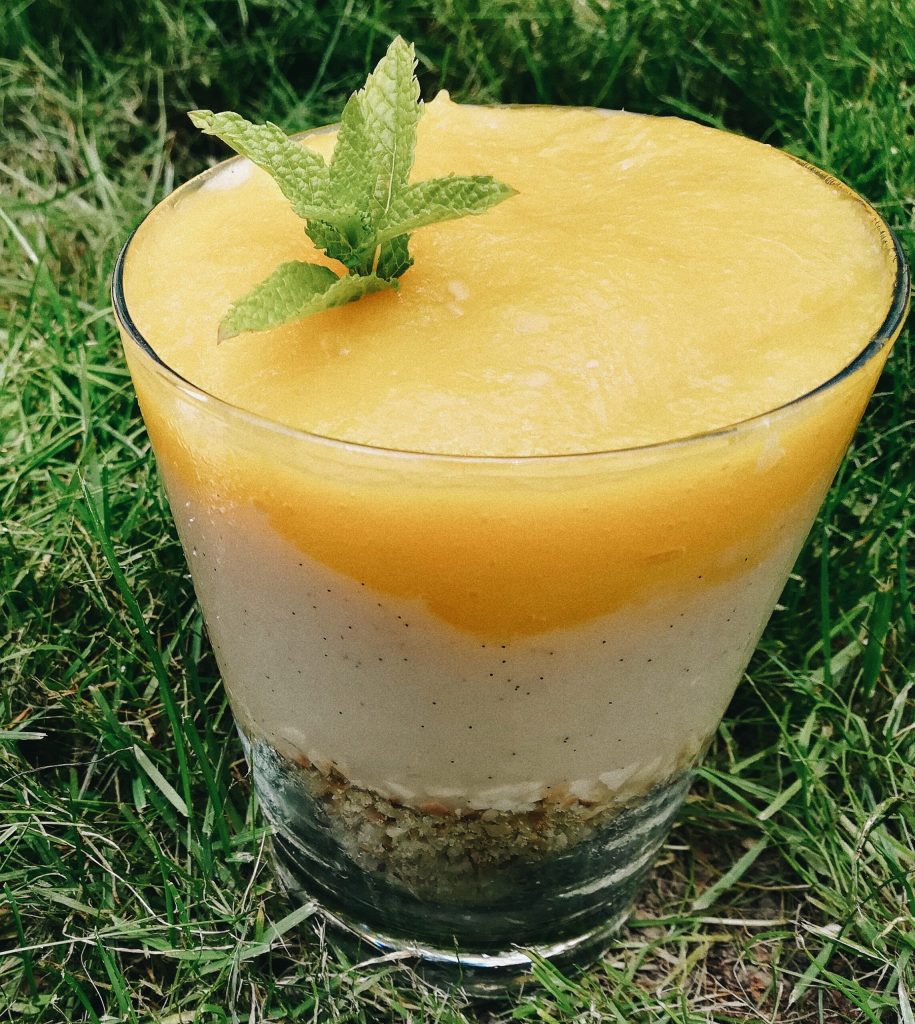 Oat milk is a great milk to use when making cream, since its higher than usual fibre content makes it have a thicker, luscious texture. I'd been wanting to use it to make some custard for a long while, so you can all see how easy it is to prepare.
I decided to follow my friends Josune's advice, since she's a great cook, always creating delicious recipes from healthy, nutritious ingredients. With her tips, I put together a very interesting combination, also using rather affordable ingredients so this dessert is available for everyone!
For the recipe, which used mango, which is widely available for those of you residing in tropical zones. If mangoes are not local to you, you can use any other seasonal fruit of your liking, such as plums, raisins, berries, peaches, etc…
Here's the recipe (for 2 people)
Ingredients for the oat milk custard:
150-200g toasted peanuts
2 ripe mangoes
70g rolled oats
1 vanilla bean
1 litre water
A pinch of salt
Peppermint, to decorate
STEP 1: Making oat custard
Heat the water and as it starts to boil, add the vanilla bean, chopped into smaller pieces. Let it steep to infuse the water for 10 minutes.
Put 70g rolled oats and a bit of salt in the filtering piece and then attach the filtering bit to the Vegan Milker jar.
Slowly add the infused water to the jar and blend everything with a hand blender. You'll need approximately one minute.
Remove the filter and strain the milk with the help of the mortar.
Put the pulp aside, in order to use it in other recipes (you can find some HERE) and heat the oat milk in a saucepan.
Heat on medium-high heat for 5-7 minutes, stirring often so it doesn't stick to the bottom of the saucepan. Once it boils, we keep heating and stirring for 2 extra minutes. After this time, the milk should be thicker.
STEP 2: Prepare the peanut oat layers
While the oat custard sets, we can get the rest of ingredients ready.
First, we reduce the peanuts to crumbs, using either a blender, or by hand, with a mortar and a cloth.
Then, we peel and chop the fruit, in this case, our mangoes.
STEP 3. Styling.
We'll place a layer of chopped peanuts in the bottom of the jar, jam-packed with plant protein!
Then, we add a layer of custard, which should already be cold, rather than hot. This layer is filled with low GI carbs and fiber!
Then, we top the jars with the blended or chopped fruit, which will supply us with vitamins, minerals and extra fiber.
This dessert is best served chilled, so place it in the fridge for a while before enjoying!
TIPS AND TRICKS:
In order to make a European version, you can:
Use a different nut in the bottom of the jar, such as hazelnuts, almonds, etc.
Use pureed peach, plums or raisins in the bottom of the jar
Enjoy this dessert hot in case it's cold outside.
The key is to make the most of local ingredients, in order to reduce our carbon footprint and reduce the damage caused to the environment.
If you're looking for more ideas on how to cook with oat milk, you can find lots more in the section "cooking with milk".
Cheers and happy summer!