Ingredients
1 litre of hot water (60-70ºC)
50 grams of rolled oats
1 tablespoon of cane sugar, agave, guarapo or honey (optional)
1/5 of a lemon peel
½ teaspoon of a cinnamon powder or a cinnamon stick, broken into pieces
A pinch of salt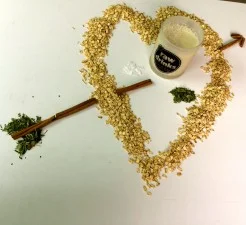 Preparation
Put one litre of hot water (60-70ºC) in the Vegan Milker container
Add the rolled oats, salt, lemon peel, cinnamon and the sweetener that you wish to the filtering-glass
With a mixer, mix the oats for approximately one minute.
Leave it soaking for 5 minutes
Raise the filtering-glass out of the water and use the Vegan Milker mortar to squash it until you squeeze the last drops from the oats.
Water temperature
When making a drink from oats, the water temperature is important because oats contain an ingredient which thickens in high temperature (mucilage). Because of this, if we make the drink with boiling water, the drink will be very thick, like a yogurt. This is fine if you want to make a dessert, or a croquette, but you won't be able to drink it.
Thus, if you want a classical oat milk, the water should be between 60-70 ° C to avoid over thickening and you must use exactly 50 grams of oats, if not, the experience can be a disaster.

Tips
If it is too thick, you can always add more water and mix it until it is homogeneous, or use fewer oats when making it.
Some Vegan Milker users have told us that they've used thick oats flakes and the result is similar, so size doesn't matter!!!!!
A Vegan Milker user has told us to grind the flakes with the mixer before making the drink, to make the most of the oats and to leave less pulp.
Don't waste its pulp, it's great for cooking! You have some ideas into the Pulps section of this blog.
P.D: You can also make raw grain oat milk.
| NUTRITIONAL VALUES | x 100 ml | x 250 ml | |
| --- | --- | --- | --- |
| Energy value | 19,04 | 47,60 | kcal |
| | 79,99 | 199,97 | kj |
| Fats | 0,24 | 0,59 | g |
| *of wich saturates | 0,04 | 0,11 | g |
| Carbohydrates | 3,83 | 9,58 | g |
| *of wich sugars | 1,46 | 3,66 | g |
| Dietary fiber | 0,73 | 1,84 | g |
| Proteins | 0,45 | 1,13 | g |
| Salt | 0,00 | 0,00 | g |
| | | | |
| VITAMINS AND MINERALS | | | |
| Calcium | 8,02 | 20,04 | mg |
| Iron | 0,24 | 0,60 | mg |
| Magnesium | 4,38 | 10,95 | mg |
| Phosphorus | 13,41 | 33,53 | mg |