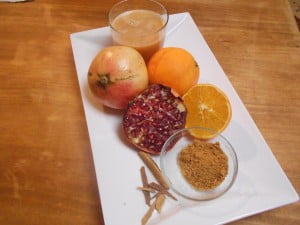 We usually eat orange in winter, but what about pomegranate? This recipe is a good way to eat more pomegranates also in winter.
Ingredients:
2 organic oranges

1 organic pomegranate
A spoonful of brown sugar
Preparation:
Shell the pomegranate, split the orange in its segments and put all in the filtering glass of Chufamix -fruits must get to the top of the filter's mesh-.

Then add a spoonful of brown sugar (or other sweetener) and also a bit of cinnamon (optional).

Insert the filtering glass into the container and blend till you break the fruits and you get all its juice (1 minute, more or less).

Finally, press gently the fruit pulp with the mortar to drain the juice, and that's it!
You´ll get a wonderful orange and pomegranate juice!
Tricks and alternatives:
Instead of using brown sugar or sweeteners, I´ve tried with a spoonful of pollen and the result was…. WOW!!! Pollen is a good natural additive to consume especially in Spring and Autumn.

The remaining

pulp

may be added to yoghurt, muesli or used to make some cookies. The pulp has a special texture, it´s juicy but fibrous, enough to awaken our imagination!

At the "Pulp" section of our blog there is a special seasonal recipe which uses orange and pomegranate pulp (Here is the link).