Cooking with the vegetable milk pulps really stimulates our creativity. Our lovely vegan cook, Maizan Ahern, experiments with these pulps with great love and imagination. Thanks to Maizan, there are loads of delicious recipes in her blog www.thebluecrane.asia
Today we are sharing the recipe she has created to use the pulp leftover from making soy milk.
Here it is: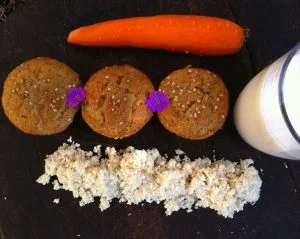 "Everyone loves the indulgence and sweet delight of a rich moist muffin with their morning cup of coffee or tea. Every kid loves a little sweet treat in their lunch box and the recipe adds the goodness of carrots without them knowing! This delicious soy milk pulp (okara) and carrot muffin is a lactose-free recipe which uses fresh soy milk made using the Vegan Milker by Chufamix. It is also gluten free. Perfect for both adults and children!
Wet ingredients:
1 cup of homemade soy milk
1 cup of soy pulp (okara)
1/3 cup of organic coconut oil
1 teaspoon of vanilla extract

1 ½

cups of grated carrot
Dry ingredients:
1

½

cups of gluten-free flour

¾ teaspoon of xanthan gum (optional)
¼ cup of corn flour
1 tsp organic baking powder

1

teaspoon ground cinnamon

¼ teaspoon of ground ginger or ½ teaspoon of freshly grated ginger
¼ teaspoon of powdered nutmeg
¼ cup of pure coconut sugar
½ cup of chopped walnuts
Instructions
1.Preheat oven to 175º C.
2. Line a muffin tray with 12 paper liners or grease and flour the muffin tray generously.
3. Mix the wet ingredients and the dry ingredients separately.
4. Add the wet ingredients to the dry ingredients and fold lightly, without overmixing.
5. Line the tray with 12 cupcake cases.
6. Spoon the mixture into the cases until almost full and bake for 25-30 minutes until lightly brown or until the toothpick test comes out clean.
7. Leave the cupcakes to cool before attempting to remove the paper liner. Muffins left overnight taste better and are incredibly moist!
Enjoy!
Recipe is adapted from https://www.justasdelish.com/
Save
Save