Ingredients:
1 cup of water to soak the soy beans*
1 liter of water to make the soy milk
80 grams of white soy beans* or flakes
1 tablespoon of cane sugar, honey or agave.
1/5 of a lemon or an orange peel
½ teaspoon of cinnamon powder or a small branch of cinnamon
A spoonful of vanilla sugar or a dash of vanilla aroma (optional)
Preparing the Soy Milk:
Soak the soya beans* in water overnight (remove this water after soaking).
Put 1 liter of water in the Vegan Milker container.
Insert the filtering glass and place the soaked soy beans and rest of ingredients inside.
Mix for approximately 1 minute.
Raise the filtering glass out of the water, and use the Vegan Milker mortar to carefully strain the drink from the pulp.
If you are not a "rawer", you should boil this milk for 15 minutes in a saucepan.Stir gently with lots of love. Taste after 5 mins. The 'beany' taste would have softened.
After 15 min, the milk is completely palatable especially if you intend to add raw sugar or other sweetening agents.
After 20 min, you will have the creamiest, neutral tasting soy milk good enough to drink on its own.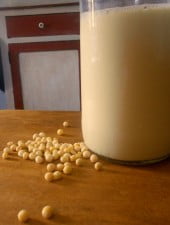 Key Tips
*Instead of using soy beans, you can perfectly use "textured" or "precooked" soy (soy flakes). This is the fastest way because you only need to soak this type of soy 15 minutes, and you DO NOT NEED TO BOIL the soy milk once you have done it. But the result is not as good as using soy beans.
You can also make soy milk from cooked beans.
If you are not going to drink it right away, keep it in the fridge (8 days self by date).
Never use transgenic soy, only organic. You have more information about soy consumption in this link.
You can also recycle the pulp to make many other things. The sky's your limit!!
Once you know how to make soy milk you can make homemade soy yogurt.
Do it yourself and enjoy!