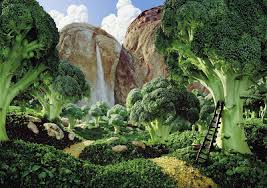 All over the world, from Indonesia to the Amazon, through to Africa, Europe and Northamerica, large forests, consisting of native trees, have become extinct at a crashing rhythm. Deforestation without an efficient reforestation, has serious consequences:
It damages the habitat

causing serious biodiversity imbalance.

It has an

adverse impact on the carbon dioxide (CO2) levels in the atmosphere.

It raises the

erosion of the soil

and quiet often, it´s degradation into

non-productive land.

In many countries it causes the

extinction of local species, changes the climatic conditions, desertification and the displacement of indigenous populations.
Besides the effects mentioned above, deforestation also has a negative impact on food security and sovereignty of the towns.
The environmental laws are still very lenient in ensuring the recovery of all environmental loss caused by deforestation. And the actions of reforestation usually do not have the aim of providing edible resources.
Even in the cities, trees are cut down to enlarge streets, build roads, parks, buildings or just to not disturb the views. When new trees are planted in the cities´ streets, squares and avenues it is done with an aesthetical function but not to be an edible option.
The reforestation of public lands and mountains, building sites, city parks, parkings and streets would be an easy way to produce oxygen and wood, but also food; fruits, nuts, seeds and edible leaves for all of the citizens and other animals that inhabit that place… It is a simple action; seeds would need to be germinated and cared for for the first few years. It is doable and easy. (You have some interesting information about edible forest in this link).
Why not plant hundreds or thousands of edible trees to reforest these places?
Why isn´t activating these kinds of actions linked with food sovereignty on the agendas of governments, of the cities, of the towns in general?
Particularly it´s very usual to plant fruit and nut trees for family cosumption, but it is not so common in larger communities. On an institutional level it is still an uncommon practice. However, it does exist. Projects which plant edible forests thinking towards solving the problem of hunger do exist. There are a few examples of such initiatives in this link.

Between the different and amazing projects about edible forests that I´ve come across, I have found Eric Toensmeier´s plan really interesting. He lives in a nordic climate and he has created a self-managed edible forest in the car park of his home. The garden-forest provides some food every day of the year. It´s in the following video. It´s a great example of agro-forestry engineering: A phenomenon!
On the subject, you know that besides using seeds to make veggie-milks, you also have the option of planting and growing trees that will provide more seeds to eat, and more seeds to grow …
Are you up for it?