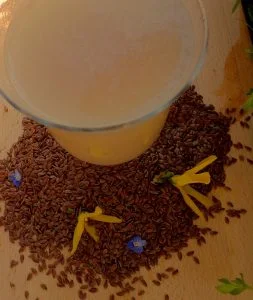 Homemade flaxseed milk is recommended to help cleanse and strengthen the intestines. It helps regulate bowel movements (and therefore is recommended when constipation occur) and creates a protective layer which lines the stomach, making this milk a effective natural remedy for gastritis.
As beneficial as it is, when it comes to drinking flaxseed milk, moderation is the key. It is recommended not to have more than two glasses per week, since having too much can have a harmful effect on the body, just like it happens with every other medicinal food.
We're bringing you some fabulous trick to improve our older flaxseed milk recipe, thanks to our friend Sabine Habermaler (www.dudleyandsabina.com) . Her method is really effective when it comes to making the most of every little flax seed, and it also improves the texture of the milk.
Here we go!
Ingredients:
4 tablespoons Brown flax seeds
1,5 litres of water
Instructions:
Soak 4 tablespoons of flaxseeds in 250ml. of water for 10-15 minutes. Make sure you stir them so they're all moistened.
Fill the ChufaMix glass with 750ml of water and place the filtering attachment inside.
Add in the flaxseed/water mixture and blend for one minute.
Let it sit for a couple of minutes and lift the filter in order to strain the milk.
If you'd like to make this step even easier, check out this video with some instructions and tips.
Put aside 500ml of the flaxseed milk (you can use a bottle) and add an extra 500ml of water to the ChufaMix glass.
Place the filter with the blended flaxseeds inside of the glass again and blend for another minute.
Again, filter the mixture following the instructions in the video.
Now, mix both milks with a blender and enjoy!
What to make with the pulp?
You can serve the pulp with about 25 grams of pine nuts, a bit of moscovado sugar, a pinch of salt and a drizzle of cold-pressed sunflower oil. It makes such a delicious healthy breakfast which goes so well with the milk you just made!
Thanks a million Sabine!
It's always lovely to share your ideas, recipes, tips and tricks on this blog!
| NUTRITIONAL VALUES | x 100 ml | x 250 ml | |
| --- | --- | --- | --- |
| Energy value | 8,12 | 20,29 | kcal |
| | 33,56 | 83,89 | kj |
| Fats | 0,65 | 1,61 | g |
| *of which saturates | 0,06 | 0,14 | g |
| Carbohydrates | 0,08 | 0,19 | g |
| *of which sugars | 0,02 | 0,04 | g |
| Dietary fiber | 0,32 | 0,79 | g |
| Proteins | 0,35 | 0,86 | g |
| Salt | 0,00 | 0,00 | g |
| | | | |