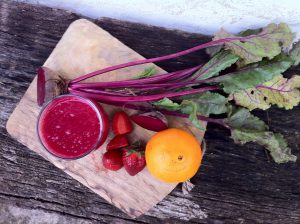 What's not to love about beetroot? Its vibrant red colour, its earthy taste and multiple medicinal properties make beets one fantastic vegetable to add to your diet. It's so cheap too!
That beautiful red colour is formed by natural pigments such as bethanin and flavonoids, which help prevent and fight the proliferation of cancerous cells. And let's not forget all those antioxidants and nutrients present in beets: they're so helpful when it comes to prevent heart disease, control cholesterol levels in blood, detox the liver, etc… Beetroots also contain methionine, an essential amino acid which aids in hair, nail and skin health. Plus, they're also a great food to have when iron levels are low, which is interesting for those who are anaemic or at risk. Last but not least, the amount of silicon helps maintain all bones, arteries and skin in top health.
This is a recipe from the mejorconsalud website , which we adapted to our taste. Now that both beets and strawberries are in season, it's time to give this beautiful juice a go!
Ingredients
1 medium beetroot
2 oranges
4 ripe strawberries
Instructions
1.Place the following items in ChufaMix's mesh: first add the peeled, cubed beetroot and then both oranges, peeled and chopped into smaller pieces.
2.Place the filtering mesh inside the glass and kindly blend until fruit is pureed.
3.Remove the mesh and press the pulp with the help of the morter. The pulp is on the more fibrous side, so this will take about a minute until all the juice has been squeezed.
4.Now we have a great orange beet juice ready.
5.Without using the filtering mesh, it's time to add the strawberries and blend again.
6.Your juice it's ready! Enjoy
Tips and tricks
It's important to wash both mesh and morter right after blending to avoid permanent staining.
If you'd prefer a smoother, lump-free juice, add the strawberries in the mesh, with the beets and orange.
What to do with the pulp?
This is such a versatile pulp, which not only is beautiful, thanks to its vibrant red colour, but also a really healthy addition to a lot of different recipes. Here are some of our favourite ideas!
1-Orange beet tacos (makes 4 tortillas):
100 grams pulp
70 grams strong flour
1 teaspoon cumin sedes
Mix cumin seeds with the pulp. Then, make a mountain out of the flour, dig a hole in the center and place the pulp mixture in it. Knead thoroughly until all the ingredients are fully mixed. This is a tacky, sticky mixture by nature, but you can add some more flour should you have any difficulty while kneading. The dough will be ready when it stops sticking to your hands. Let it rest at room temperature for 4 hours. Now, divide the dough into 4 pieces and use a rolling pin to flatten them as thinly as you can. Cook in a pan with no oil, flipping them when they're ready so both sides cook well.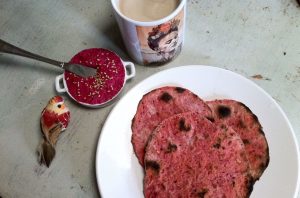 You can use the tortillas warm or you can cut them into pieces to make tortilla chips and use them to dip into hummus, guacamole or veggie patés.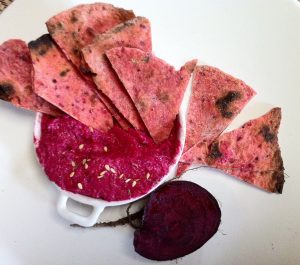 2-Orange beetroot paté:
100 grams pulp
Juice from ¼ lemon
1 teaspoon cumin seeds
1 heaped tablespoon of tahini
Add a bit of lemon juice (no more than ¼ of a lemon) and cumin to the pulp and stir to combine. In order to add more nutrients such as calcium, proteins and plenty of minerals, and also make a creamier spread, add some tahini (other seed butters will work well too, such as sunflower seed spreads). You can serve this paté with some seeds and herbs on top (think: poppy seeds, oregano, sesame seeds, etc…). This is such a quick, easy recipe that you can easily customize by adding more tahini, herbs, etc… Which other combos would you try?
Other options:
You can also mix the leftover pulp with some plant milk to make a fantastic mylkshake!
Pulp also works great while baking things like cakes and muffins (there are some recipes on this very blog!)
No matter which route you go: you'll always get a healthy, wholesome and tasty result. Cheers!