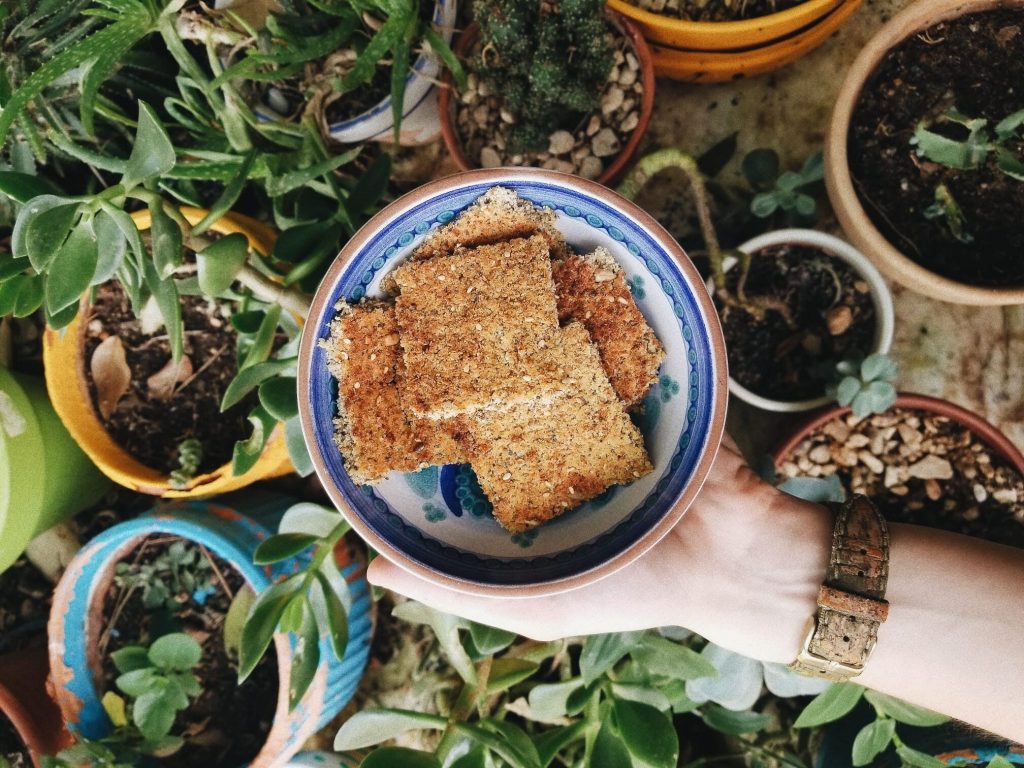 With a Vegan Milker at home, it's highly likely to spend the summer making homemade horchata or other plant milks to prepare fruit milkshakes, vegan ice-cream, etc…
If that's the case, your house must be full of leftover pulps which you might not know what to do with. We have many recipes and ideas on the "pulp" section of the blog, but in this article, we will be focusing on tigernut pulp. We put together a few recipes which we hope you'll find enticing, but before getting into that, we will be sharing some quick tips and express recipes!
Ideas for a quick pulp recycling:
The quickest way to use up tigernut pulp would be adding it to yogurt, soup, vegetable purées, salads or pasta. In this video, you will find many different ideas to recycle almond pulp. Tigernut pulp, however, does have a thicker, coarser texture, but when paired with creamy, oilier foods such as yogurt or oil, we can consume it with no trouble at all.
Before we start with the recipes, let me remind you that in case you don't have time to cook with the pulp straightaway, they can be kept in the freezer for later use.
Basic tricks to use up leftover pulp in vegan baking: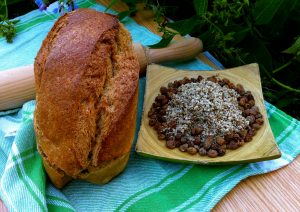 You've probably seen tigernut flour as an ingredient in many recipes. This is not the same thing as tigernut pulp, whose water content is way higher. In case you want to substitute one ingredient for the other one, you'll need to remove the 50ml-100ml extra water present in the pulp from the other liquid ingredients in the recipe, such as milk, for example. This is a great way to come up with many different combinations!
On the other hand, you'll have realized by now that both tigernut pulp and flour have a very coarse kind of grain, so it's necessary to mix it with a higher gluten content flour in order for the goodies to rise in the oven. Due to its texture, tigernut baked goods do not entirely feel like those made with all purpose flour, but they're fantastic anyway, and they have a nice touch due to the tigernuts.
That being said, I'm going to proceed and share some recipes from the Chufamix community, which we really hope they can inspire you. Some of the recipes aren't vegan, since they contain butter or eggs, but those can usually be replaced by their plant-based counterparts.
Here's how you can make a vegan egg: mix 1 tablespoon of chickpea flour with 2 tablespoons of water and stir to create a gooey mixture.
In order to make 250g vegan butter, mix 100g of organic rice oil, 60g corn oil and 40g olive oil. Add in 50g of cacao butter, previously melted. Mix everything thoroughly and let it cool before using. Remember to keep inside the fridge!
Here come the recipes:
1- VEGAN TIGERNUT CRACKERS BY @earthlytaste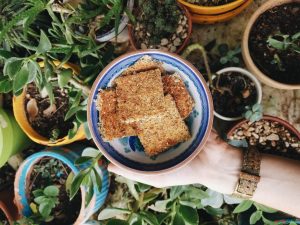 Make sure that the pulp is dry before starting to make the recipe. You will need the pulp from making horchata with about 200g of tigernuts. Add 4 tablespoons of olive oil, 2 tablespoons of mixed seeds, half a teaspoon of each: garlic powder, paprika, oregano, onion and salt to taste. Mix well until thoroughly combined. If a compact dough is not obtained, add sifted flour (wheat flour, rice flour, or whatever you have at hand) until a modeable dough is obtained.
Place the dough between two sheets of parchment paper and roll it until very, very thin. Preheat oven to 200ºC (400F) and bake for 12-15 minutes until golden and crispy. Cut before cooling and let them chill and harden before eating!
Original recipe on Earthly Taste's Instagram profile.
2- OAT TIGERNUT CRÊPES BY @chufamix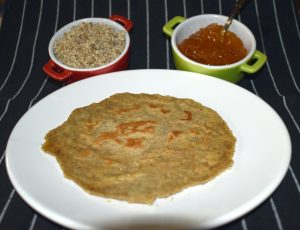 Mix in a blender or food processor the following: 50g rolled oats, 2 big tablespoons of tigernut pulp, 150ml. of horchata or any other plant milk, 1 tablespoon melted coconut oil, 3 tablespoons extra virgin olive oil and a pinch of stevia and salt.
Heat some extra oil in a non stick pan and drop a spoonful of batter. Cook on each side for 5 minutes total on medium heat. Before flipping, you can use a plate to prevent it from breaking. If you don't like to flip the crêpes, you could try and make smaller pancake versions.
You can serve them with veggies, nuts, jam, chocolate, etc…
3-TIGERNUT BREAD, vegan recipe inspired on @Belinaba's version.
Mix 150g bread flour and 175g tigernut pulp. Add 120ml. almond milk, 2 tablespoons agave syrup, one vegan egg, 25g fresh yeast and 2 tablespoons of olive oil. Mix everything together and bake on a preheated oven to 170ºC for 20-25 minutes.
4- TIGERNUT CAROB CAKE FROM @chufamix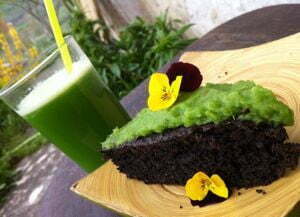 Put 100g of whole wheat flour and 100g of carob powder in a bowl and whisk. Add 100g of melted butter and stir in.
Add in 2 eggs or vegan replacement and stir well to combine. Then, add 150g of tigernut pulp and stir one last time.
Pour batter in a pan lined with parchment paper and bake in a preheated oven at 180ºC (375F) for 20 minutes.
Serve with jam, fruit or chocolate.
The one in the pic is topped with leftover pulp from making veggie juice and it was amazing!
Servir con una fina capa de mermelada o frutas confitadas. En la foto, la hemos cubierto con la pulpa sobrante de un zumo detox de manzan y acelga y la verdad es que triunfó!
We hope you enjoy all these recipes and get to experiment. If you have any other suggestion, let us know in the comments.
Cheers!