Tiger nuts and almond "horchatas" are, for their excellence, the most appreciated milks in the Mediterranean surroundings, because of which, they are the Royal Family of "horchatas" or plant milks. "Horchata" is the local word used to name a very concentrated home-made plant milk. Horchata's flavour is unusually outstanding, but its nutritional properties are also "outstanding" when it is home-made, fresh and natural. You have more information about it's nutritional value in this link.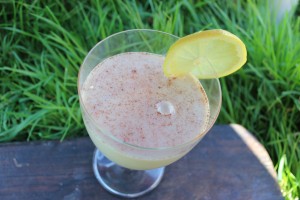 Tiger nut "horchata" is also the mother of our invention the "Vegan Milker by Chufamix". Món Orxata is our little company which makes home-made tigernut horchata and sells it throughout the streets of Valencia (Spain) in nice eco-trolleys. If you go there, you have to taste it, it's radically different from any other plant milk that you've tasted before! So we invented Vegan Milker for people to make tiger nut horchata in the comfort of their own homes. After some attempts we saw that Vegan Milker is also very useful to make any type of plant milk. It was a great surprise!!
After tasting an infinity of plant milks, without a doubt, tigernut horchata is our favourite.
| NUTRITIONAL VALUES | x 100 ml | x 250 ml | |
| --- | --- | --- | --- |
| Energy value | 67,80 | 169,50 | kcal |
| | 283,66 | 709,14 | kj |
| Fats | 3,17 | 7,93 | g |
| *of which saturated | 0,49 | 1,23 | g |
| Carbohydrates | 10,15 | 25,38 | g |
| *of which sugars | 5,04 | 12,61 | g |
| Dietary fiber | 2,62 | 5,54 | g |
| Proteins | 1,14 | 2,84 | g |
| Salt | 0,10 | 0,25 | g |
| | | | |
| VITAMINS AND MINERALS | | | |
| Calcium | 11,36 | 28,41 | mg |
| Iron | 0,50 | 1,25 | mg |
| Magnesium | 2,40 | 6,00 | mg |
| Phosphorus | 27,86 | 69,66 | mg |
It can be made with soaked tiger nuts, with ground tiger nuts, using 100grams/ litre or using double the amount. It depends on your preferences. The recipe below is to make a traditional Valencian style horchata.
Ingredients:
200 grams de of tiger nuts*
1 litre of water
60 grams of organic cane sugar
a bit of cinnamon (optional)
a bit of lemon peel (optional )
Elaboration:
Soak 200 grams of tiger nut for 8 and 24 hours.
Put 1 litre of water into the Vegan Milker container (natural water, avoid hot water!)
Place 100 grams of soaked tiger nuts and the sugar into the filtering glass.
Optional: add the cinnamon or/and the lemon peel.
Blend for 2 minutes (aprox).
Remove the filter and press gently the pulp with the mortar.
Place the pulp in a bowl and reserve it to bakery.
Insert the filter again, add the last 100 grams of tiger nuts and blend for 2 minutes more.
Let it soak 15 minutes and then drain the second pulp.
Put the lid on and keep it in the fridge.
Leave it resting few hours to strength its flavour.
Shake before serving to well mix the sediment.
(*)In the case that you use grounded tigernuts, it must be recent grounded one, or grind it yourselves just before making the horchata. In this case it's not necessary to soak and you can place the 200 grams of tigernuts in the same time.
Advice and tips
When you soak tiger nuts, make sure that the ambience temperature is no higher than 20ºC, because it could accelerate the fermentation process of the tiger nuts. Sadly, the horchata will only last for 2 days. To avoid the quick fermentation and have a nice horchata for 3 or 5 days, soak the tiger nuts in the fridge. Tiger nuts horchata is very sensitive to the heat, that's why you have to always keep it in the fridge. There's more information about the conservation of plant milks in this link.
200 grams is the perfect amount to make the traditional Valencian recipe. But listen, there are lot of people outside of Valencia who make horchata using only 100 grams. If you decide to make it with 100 or 150 grams you can blend the tigernuts at the same time.
You can add it to tea or coffee. You can also mix it with fruits or liquors to make cocktails… but mix them just before serving.
The pulp of the tiger nut milk is quite sandy, but you can recycle it by adding it to salads, yogurt and muesli… you have to mix it to make it nicer to eat. You can also make cakes or bread with it. You have some ideas in the PULPS section of this blog.

Enjoy!