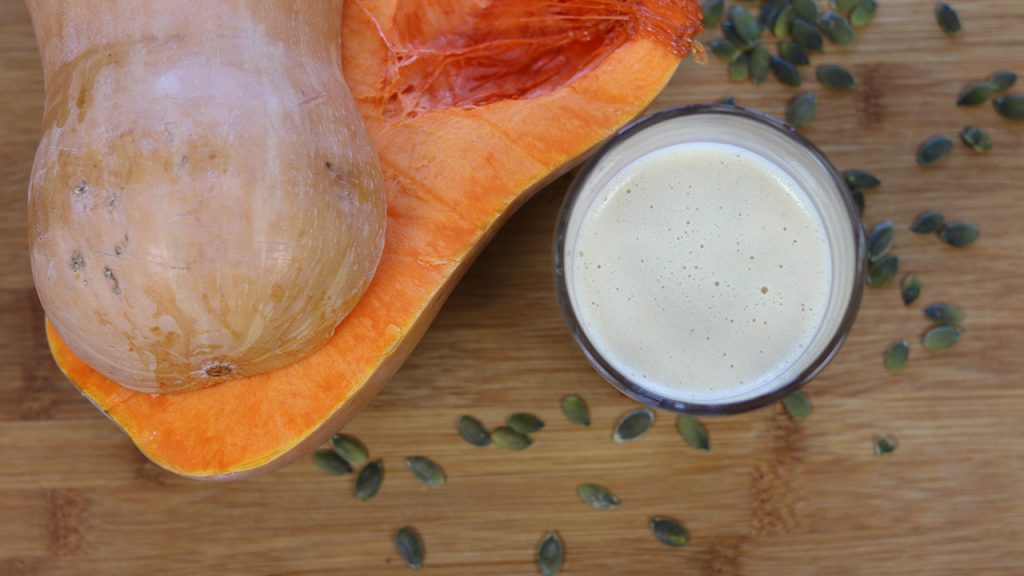 Today's recipe for raw pumpkin seed milk is Monica Acha's contribution from @Simpleblending. We find this a very interesting recipe to use with the raw pumpkin seeds that are usually discarded when, for example, we empty a pumpkin for Halloween. In this way we can make the most of the nutrients in this typical autumn vegetable. Let's go!
Nutritionally, raw pumpkin seeds have the same properties as peeled seeds. They provide a large amount of vitamins (group A and B) and minerals (especially magnesium, phosphorus and zinc). They also contain significant levels of omega-3 fatty acids. They stand out for their anti-inflammatory properties and help fight intestinal parasites. .
In the recipe Monica propose to use the whole seeds directly when empting the pumpkin without roasting them first. If you want to keep the seeds to prepare the milk another day, it is convenient to wash them well until all the rest of the pulp is removed, dry them (or toast them) and keep them in a jar.
Ingredients for making pumpkin seed milk:
 1/2 liter of water
 Half a cup of raw pumpkin seeds
 2 pitted dates
 A bit of salt
*if we make this recipe with toasted whole pumpkin seeds, before making the milk we must soak them for about 4 hours so that they rehydrate and facilitate the crushing of the seeds.
How to make the milk:
Fill the Vegan Milker container with 1/2 liter of water.
Put all the ingredients in the filtering glass and insert it into the container.
Blend the mixture with the hand blender for about 1 or 2 minutes until the seeds are well squeezed. Use the turbo speed to obtain better results.
Let the mixture rest for about 2 minutes, take out the filter and press the pulp with the mortar.
Keep the milk in the fridge. The quality of the milk improves over time. It will last us from 3 to 5 days depending on the temperature to which we have regulated our fridge.
The taste of raw pumpkin seed milk is slightly fruity, completely different from other plant milks, but certainly delicious!
Some extra tips!
The pulp is too hard to eat without modification, so we will throw it to the compost or use it for other external uses such as exfoliation of the skin. Yes, you get a radiant skin.
Here is one more recipe of pumpkin seeds milk: Sunflower and pumpkin seeds milk
Enjoy and happy Halloween everyone!