Chestnut milk is a typical autumn dairy free option. If the chestnuts are ripe, well-roasted or cooked, the vegan milk obtained from them is a delicacy.
In Chufamix we love mixing seeds so we have added a handful of tigernuts to the traditional chetnut milk recipe to make a super-energetic vegan milk, but if you want to try the real taste of chestnut milk, we have included the recipe in the last section of this post.
Ingredients
1 litre of water
24 roast chestnuts
50 grammes of tigernuts (optional)
3 pitted dates
A pinch of salt
Preparation
Before making the milk, soak the tigernuts and the chestnuts for 12 hours and throw away the water. You can soak them in the same bowl.
Put a litre of water in the Chufamix container, fit the filter glass and put in all the ingredients (tigernuts, chestnuts and dates).
Beat for 2 minutes using a hand blender.
Let the mixture rest for 5 minutes.
Remove the filter glass and mix the pulp with a wooden spoon until almost all the milk has been filtered. To finish, gently squeeze the pulp with the help of the mortar in order to obtain the last drops of milk.
Keep in the fridge.
Tips and alternatives
Chestnut and tigernut milk is very sensitive to changes in temperature. Due to the great nutritional value of these two seeds, this vegan milk will be full of microorganisms, which, although they are healthy for our organism, also accelerate the fermentation process.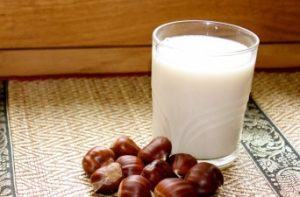 Chestnut milk recipe: to make chestnut milk without tigernuts, just double the amount of chestnuts to 24 for 1 litre of water. In this case, the resulting pulp is a delicious chestnut cream that needs nothing added to it to eat it by the spoonful!
In both versions, the dates can be substituted by a big spoonful of cane sugar.
Enjoy!