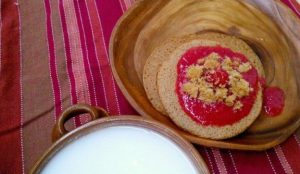 Today we are sharing a recipe for coconut milk cookies which are ideal for people with gluten intolerance, since we use buckwheat flour to make the dough.
This recipe has been given to us by our dear Czech contributor, Janka (from soluna.sk), who we would like to fondly thank for sharing this delicious recipe with us.
Ingredients:
1 cup of buckwheat flour
1 cup of coconut milk made with the Chufamix.
1 egg (from a happy chicken)
1 tablespoon of cane sugar (or coconut sugar)
1 teaspoon bicarbonate of soda
1 teaspoon of cinnamon
Preparation:
Mix the dry ingredients in a bowl.
Then add an egg and the coconut milk and mix well.
Leave the mixture to rest for a while (30 minutes should be enough).
Heat a little oil or coconut butter in a pan over a medium heat.
Fry the dough in the form of biscuits.
Serve the cookies with your favourite filling; jam, chocolate spread, a little bit of tahini….
Alternatives and tips
The coconut pulp which is leftover from the preparation of homemade coconut milk can be used as an accompaniment for the cookies. Mix the coconut pulp with a little bit of cinnamon, coconut sugar and a few strawberries and we will get a delicious fruit puree in a few seconds.
The pulp can also be frozen to be used for cooking on a rainy day.
For more ideas of how to recycle the pulp, have a look at our special pulp recipe section.
For other coconut milk recipes, we recommend having a look at the special section dedicated to Thai recipes.