Here you have the vegan recipe of homemade coconut milk. It's really tasty, easy, nutritious and suitable for any economy.
With Vegan Milker you can cook any type of plant milk in few minutes. Look !
Ingredients
1 litre of very hot water (70ºC)
1 coconut
Preparation
Firstly you have to halve the coconut. You can see how to do it correctly in this link of "yellowsaffron"
Keep the water in a bowl (juice) or drink it. Then dice it.
Put very hot water in the Vegan Milker container, insert there the filtering glass and add 1/3 of the coconut pieces.
Soak for one minute and blend.

After that you must add the rest of the coconut little by little while blending.
Water temperature
It's essential to make it with hot water to melt the coco butter. We've tried to make it with natural water (room temperature) and sometimes the coco butter becomes solid, so it's really difficult make a nice whole milk and of course, the filtering process becomes difficult. Using hot water, the recipe is easier and the milk tastes delicious.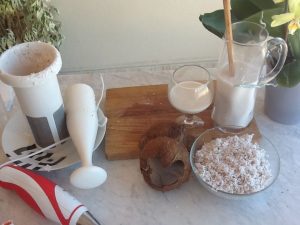 Advice and tips
You can use 150-200 grams of dry shredded coconut instead of a whole coconut. In this case it's not necessary to add the nut pieces little by little, so you can add all of the ingredients at the same time. Look at the video-recipe using dry coconut.
When you store the coconut milk in the fridge for a couple of days, it separates and the top of the milk becomes solid because of the coconut butter. You can use this as an oil or butter, or you can heat the milk up to melt the solid part and drink it. If you have high-cholesterol you should separate the butter and drink the remaining liquid as a "light" coconut milk to avoid the saturated fatty acids found in coconut butter.
You can recycle the pulp. You have 4 days to get it into the fridge and add it to a yogurt or any other meal. It is perfect to use in baking. If you have no time to consume it, you can freeze it. Here is homemade yogurt cake with coconut pulp recipe.
We hope that you enjoy it as much as we do!