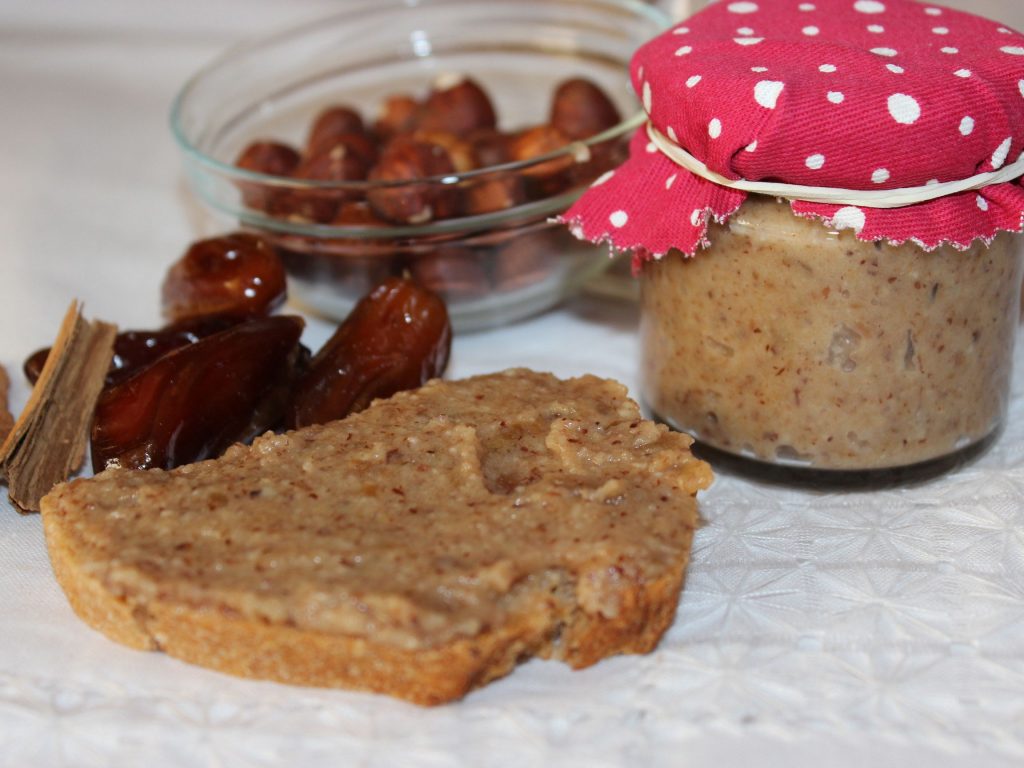 In autumn, nuts and dates arrive. It´s the moment to make delicious nuts milk and recycle its pulp in a tasty and healthy vegan meal.
Now is when they are more flavorful and tender so it is perfect for making date and nuts creams. Here you have a simple vegan recipe to make it.
In this recipe we use hazenult milk and hazelnut pulp, but you can use any type of nuts milk: almond milk, walnut milk… all of them are great!
Ingredients:
100ml (½ cup ) of hazelnut milk
100 grams of seedless dates (between 12 and 15 dates)
50 grams of hazelnut pulp

Preparation
Before starting to prepare the cream you should first prepare a delicious hazelnut milk. You have all the details in this link.
Once the milk is ready you can start with the cream.
Beat the dates with the hazelnut milk until fairly smooth.
Add the hazelnut pulp and beat some more.
Place the cream in a glass jar with a lid and store it in the fridge. You have 3-5 days to consume it.
Tips and Alternatives
This cream is very sweet and is ideal for spreading on bread, it also serves well as a filling for pies.
To increase the amount of cream, add more pulp (100 grams instead of 50grams) but although still delicious, the cream will be rougher.
You can also add a tablespoon of tahini, if you have it on hand, it´s outstanding!
To make date and nuts cream, hazelnut milk and pulp can be substituted for any other nuts; walnuts, almonds, cashews, pistachios … the preparation proceeding is the same with all of them.
Bon appétit !