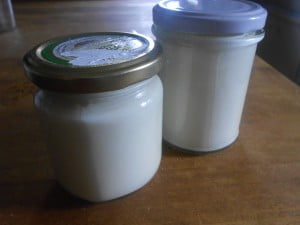 We love eating dairy free soy yogurt.
Using the Chufamix , we wanted to experiment how to make soy yogurt from homemade soy milk. We started trying to make yogurt from hazelnut milk , oat milk , nut milk … without success.
Our first victory was with homemade soy milk . The trick is to make a very highly concentrated vegan milk. Therefore, if the traditional recipe of fresh soy milk uses between 80 – 100g of soy beans, to make a yogurt from it, you have to triple the percentage and make a "concentrated" milk using 250 – 300grs of soy beans.
Ingredients to make the concentrated soy milk:
1 liter of water
250 grams of white soy beans
flavouring to taste: tablespoon of honey , lemon peel ,a pinch cinnamon, vanilla …(choose your favourite)
Ingredients to make the yogurt:
1 liter of concentrated soy milk
1 organic soy yogurt ( bought from the shop )
Preparation of the concentrated soy milk:
Leave the soybeans soaking in water overnight .
The next day, strain the soaking water from the soy beans and add half a liter of fresh water.
Blend with the mixer .
After blending, heat up one glass of water in a saucepan. When the water is warm, add the mixture of soy beans to it.
Lower the heat and cook everything for about 6 minutes.
Finally, add a glass of water into the chufamix container, add the hot mixture into the filtering glass and beat again. Filter and store milk.
Preparation of the soy yogurt :
Place a spoonful of soy yogurt into 4-6 separate glass pots
Add the warm soy milk to each pot and mix well .
Let it stand for 12 to 24 hours between 30-40ºC (it is important to maintain this temperature to help the yogurt ferment properly) *we will discuss a few options in the following paragraph
After this time, you can cap the yogurts and store them in the fridge. The soy yogurt remains preserved for up to 2 weeks in the refrigerator.
Keep one of your homemade yogurts to use as a fermenter to make more yogurts.
Tips and advice
You can substitute soy yogurt for probiotic sachets (one sachet per glass) .
If you do not have a yogurt making tool at home you have other options*, for example:
You could heat the oven up to 50ºC, place the yogurt glasses in it an keep them there for at least 12 hours.
Cover the glasses with a wooly cloth and news paper and keep them on the heater.
The most important thing is to keep them in a warm ambiance (35ºC) to ferment.
We follow investigating how to make homemade vegan yogurts with chufamix.
Soon very nice surprises !