A new coffee dimension dawns for expert baristas and coffee lovers with Vegan Milker® thanks to its innovative extraction method.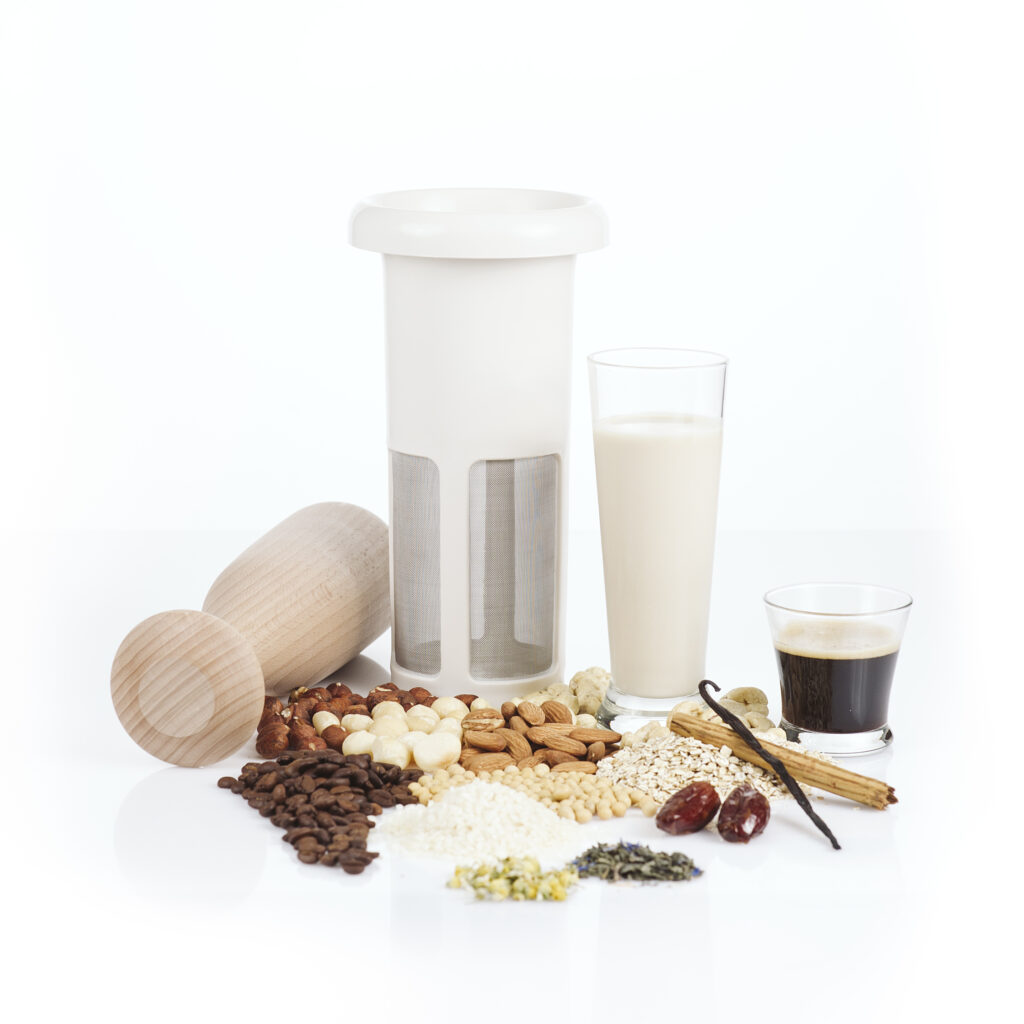 Vegan Milker's patented emulsion system allows whole coffee beans to be ground, filtered and emulsified in a single process. We can use hot or boiling water, or just "Cold Brew", extracting all the aroma and essence of the beans.
You can carry out the extraction in any casserole or kitchen container, same as in the Vegan Milker® container. Black coffee, Caffè Latte and endless coffee combinations by adding seeds, nuts, oats, vanilla, dates, ginger…
Elegant, bodied coffees with a perfect mix of acidity, bitterness and aroma that you will learn to regulate depending on the temperature of the water you use and the seeds and natural flavorings you add.
Basic tips to make coffe using Vegan Milker
QUANTITY: If we use the same amount of coffee as the standard used to make an espresso (between 7 and 9 grams for 25ml to 35ml), the extraction method of Vegan Milker is so peculiar (based on the emulsion of the whole grain) that the coffee will be of intense strength. Consequently, we will need less amount of coffee than with other systems.
The result will be a more intense and full-bodied coffee than stewed (infused) and somewhat less dark in color than the espresso.
TEXTURE: Any model of Vegan Milker can be used to make coffee. However, with the MÜLSI version, we can further enhance the fineness of the coffee thanks to its 150 microns (0,15 mm) steel mesh (similar to that of a cloth) that will allow us to "play" with the body of the coffee thanks to its interchangeable discs (Download the Instruction Manual).
GROUND COFFEE: For the same reason explained above, MÜLSI is perfect if you want to use ground coffee. The steel mesh of the other versions of Vegan Milker that are not MÜLSI is of 300 microns (0,3mm), so in this case the recommendation is to use better coffee beans.
VOLUME: You can emulsify between 1/3 of a liter and up to 3 liters of coffee at once in 1 minute, depending on the container used.
STANDARD MEASURE: 1 or 2 tablespoons of coffee (ground or grain) for 1/2 liter of water. This amount can be adjusted to the tastes and coffee habits of each person.
WATER TEMPERATURE: The water can be set at 100ºC, 80ºC or even make a "Cold Brew". Acidity, bitterness, and aroma vary in each case.
Optional: Let it rest for 5 minutes. Press with the mortar and serve.
¿Los materiales de Vegan Milker® son seguros con agua caliente?
Are Vegan Milker® materials safe with hot water?
Vegan Milker® containers and filters are made with the best materials on the market (of European and North American origin).
After intense chemical tests carried out by Bureau Veritas and TÜV Rheinland in Germany, and by the Plastics Technology Center (AIMPLAS) in Spain, Vegan Milker® has been approved to be used with water at 100º (for a maximum of 15 minutes) without any chemical or toxic compound migrating to the food or beverages that are produced. Watch Certificates .

3 methods for making coffee with Vegan Milker
Vegan Milker enables us to make coffee by applying 3 different methodologies:
A- Infusion style:
Vegan Milker perfectly fulfills the basic function of a filter for teas and infusions with the peculiarity that you can prepare tea for yourself, or for 10 people at once.
Method:
Put hot water at 100ºC in the Vegan Milker container or in any other cooking container, and insert the filter with the ground coffee.
Let it rest for 5 to 10 minutes and strain it with a mortar.
B- Emulsionizer® Style: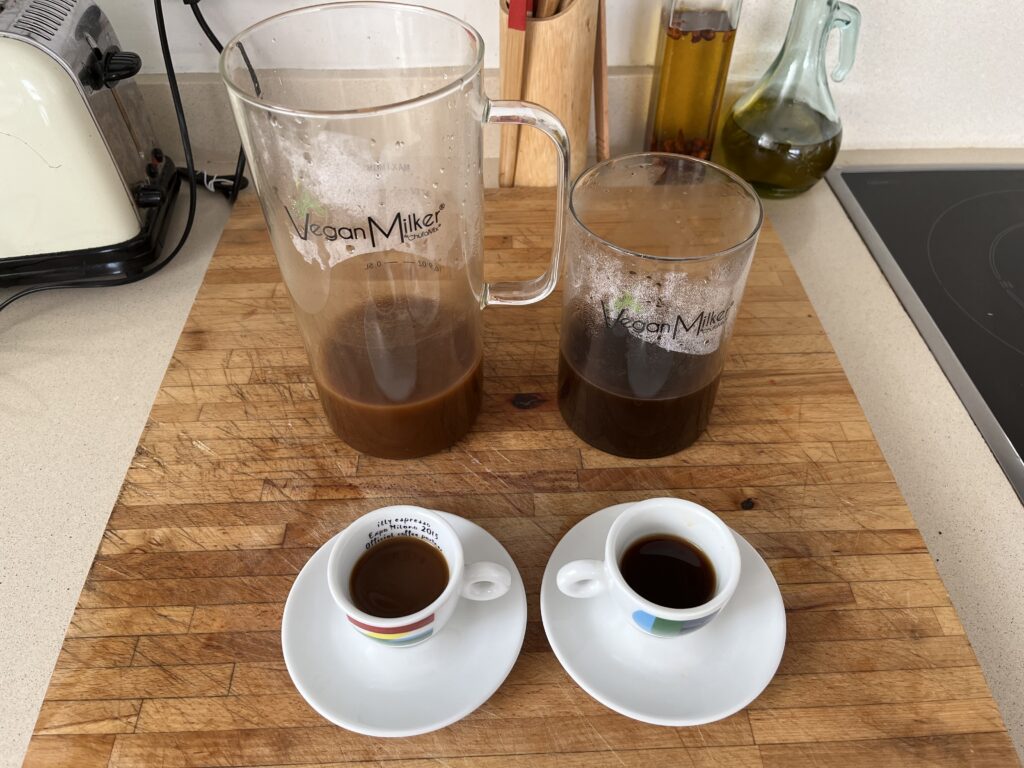 Take advantage of our patented emulsion system and grind the coffee beans with the help of a hand blender to achieve a more intense result.
Method:
Boil the water up to 100ºC (or at least 70ºC)*.
Place the Vegan Milker filter in the casserole or in the Vegan Milker container.
Place the coffee beans into the filter.
Add the hot water until the coffee beans are covered and ground with the hand blender for 1 minute.
Add the rest of the hot water and blend for another 10 seconds to mix well.
Optional: Let it rest for 5 minutes.
Remove the filter and press with the mortar.
*We have confirmed that the extraction can also be carried out in the "Cold Brew" style, that is, with cold water. It changes though the acidity and bitterness of the coffee, providing a different aroma.
C- Caffè Latte Style:
Emulsifying whole coffee beans mixed with other seeds and natural flavorings allows us to extract delicious combinations of "Caffè Latte".
Repeat the process described above but add all kinds of seeds and flavorings along with the coffee beans: nuts, seeds, oat flakes, oat flakes, dates, cinnamon, vanilla, dates….
You have it perfectly explained in this video or in the article titled Caffé Latte.
You may also be interested in:
The best plant milk to use in coffee.