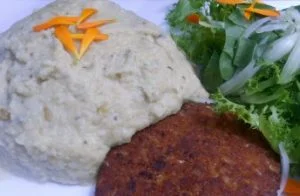 Lactose intolerant and vegan people can use plant milks, as almond milk, instead of dairy milk to make mashed potato.
There are different options to make mashed potato using vegan milks.
If you like very thick mashed potato you can use oat or rice milk. They are natural thickeners because the starch and the mucilagues.
But if you prefer a lighter and creamy versión, almond milk, coconut milk or any other nut milk will going well.
Today we share with you how to make it using almond milk.
Look, it´s really easy and delicious !
Ingredients
2 tablespoon of organic sunflower oil.
4 steamed or boiled potatos
½ liter of almond milk (2 cups)
1 tablespoon of tahin (sésam paste)
a pinch of pepper and salt
Preparation
It´s very important to cook this puré at mid heat.
Firstly put the oil in the pan and when it´s warm add the almond milk.
When the mixture is warm, add the potatoes and crush them with a wooden spoon or fork.
In 5 minutes you will see that the mixture has a mashed texture. At this moment, season with pepper and salt, and finally add the tahín. Take it off the stove, mix well and if it´s quite runny, heat it up again for 2 minutes.
The almond milk gives a very special flavour to this delicious puré.
Tips and alternatives
You can use butter instead of oil.
You can also use other herbs like ginger, or cumin.. but be careful not to overpower the almond´s flavour.
Have a nice day and be healthy!