Almond milk is a delicious and nutritive vegan milk. It´s lactose and gluten free, that´s why is becaming a trendy dairy alternative. Almond milk may be done using all type of almonds (raw, peeled, roasted…).
We explain you below the traditional recipe of almond milk with Chufamix: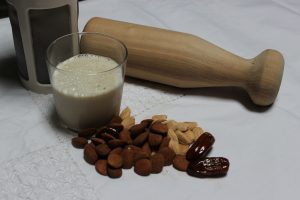 Ingredients
1 litre of water
1 cup of almonds (100 or 150 grams)
1 tablespoon of agave syrup or honey (optional)
a piece of lemon peel
Preparation
Soak the almonds overnight (or at least 2 hours)
Fill the Chufamix container with 1 litre of water
Put the almonds (and the sweetener if you wish) in the filtering glass
Blend the mixture with a hand blender for 2-3 minutes. Due to the large amount of tigernuts stored in the filtering glass the blender can eventually jam. If this happens, remove and re-insert slowly moving it in short up and down movements. (like milking a cow!!)
Once blended, leave it to marinate for 5 to 20 minutes.
Mix the pulp with a wooden spoon to begin the straining process. When the pulp is quite dry, press gently using the ChufaMix´s mortar to squeeze out the last drops.
Keep the milk in the fridge for at least 8 hours in order to enhance the flavour.
Water temperature
Almond milk, like other lactose and gluten free nuts milk, is made with natural or cold water.
If you aren´t going to consume it right away, store it in the fridge because if not, it will expire in just a few hours.
Tips and Alternatives
You can also prepare lactose and gluten free homemade almond milk with ground almond. In that case, the blending process is more simple because the pulp is lighter. To grind the almond, you´ll need a professional grinder (Thermomix or Conassi ) or a good manual traditional one. Go to this link for more information.
Almond milk marination improves its flavour, the second or third day after its preparation it will have a "gourmet" homemade milk flavour.
The remaining pulp of the almond milk is perfect to make chocolate cream. It is also good to add it directly to yoghurt or salads, or as an ingredient in baking recipes or a raw patés. You have some recipes in this link.
Enjoy drinking almonds !
| NUTRITIONAL VALUES | x 100 ml | x 250 ml | |
| --- | --- | --- | --- |
| Energy value | 49,72 | 124,29 | kcal |
| | 206,28 | 515,70 | kj |
| Fats | 3,08 | 7,70 | g |
| *of which saturated | 0,24 | 0,59 | g |
| Carbohydrates | 3,93 | 9,81 | g |
| *of which sugars | 3,36 | 8,41 | g |
| Dietary fiber | 1,04 | 2,61 | g |
| Proteins | 1,62 | 4,04 | g |
| Salt | 0,10 | 0,24 | g |
| | | | |
| VITAMINS AND MINERALS | | | |
| Calcium | 15,02 | 37,56 | mg |
| Iron | 0,32 | 0,81 | mg |
| Magnesium | 18,60 | 46,50 | mg |
| Phosphorus | 27,18 | 67,95 | mg |