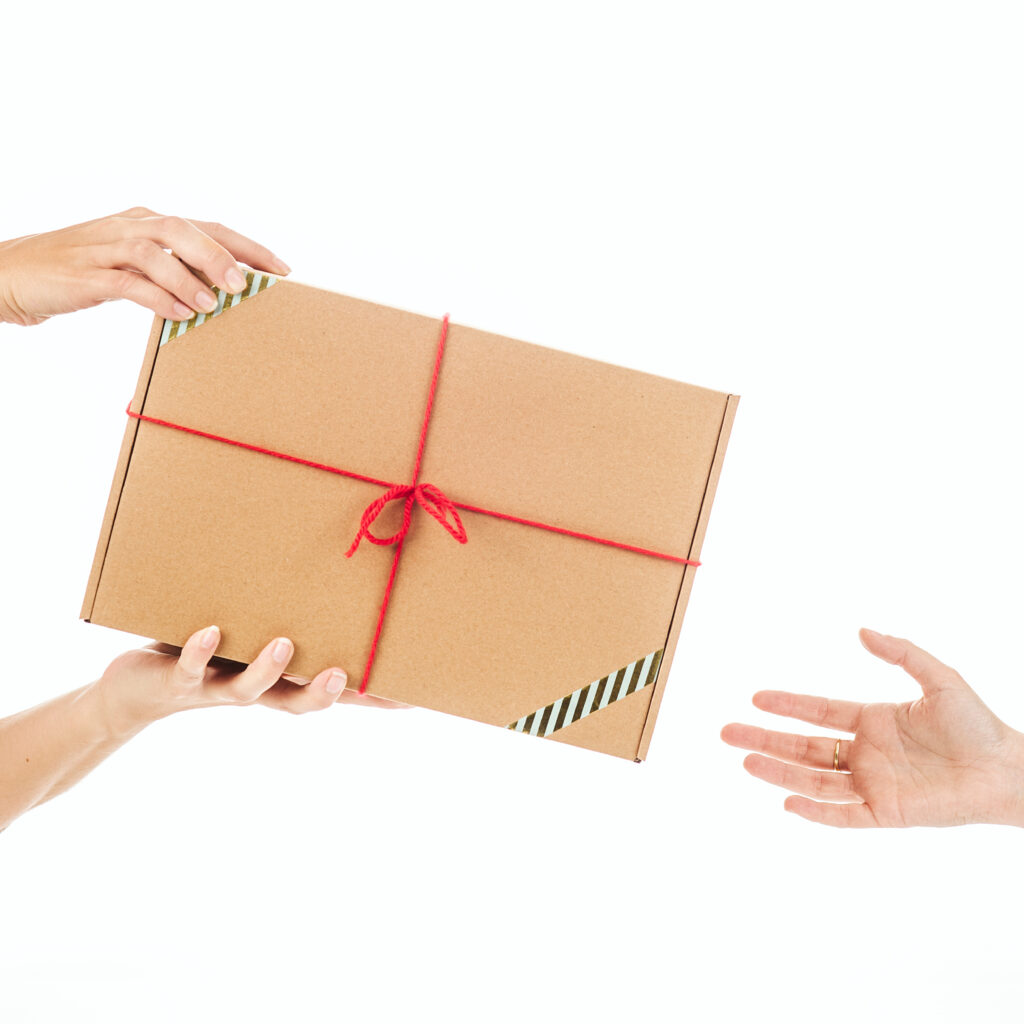 Looking for the perfect gift for vegans? Looking to get started in veganism? Thinking about Christmas? Last minute present? Here's why the Vegan Box is the ideal vegan gift option!
Vegan Box is perfect for anyone who wants to make the leap to a healthier, more conscious and sustainable way of life. This vegan pack includes the basics to get started on making homemade plant-based milks in an easy and fun way.
Vegan Box means sustainability, originality and efficiency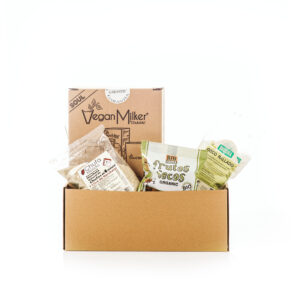 The Vegan Box, is an original gift box designed to surprise you: it contains the Vegan Milker tool (designed to last a lifetime) and a selection of some organic seeds so that you can make your own plant milk from minute 1 and also reuse its pulp for cooking.
Give away a unique experience thanks to the complete kit to create the most nutritious, healthy and creamy plant-based milk. In addition, the gift is packaged sustainably, based on the zero waste philosophy.
You will find in your Vegan Box, the perfect vegan pack, consisting of:
100 g of organic dehydrated coconut.
100 g of organic peeled almonds.
225 g of ground tiger nut with Valencian Origin Denomination.
More than 70 recipes are included in the free recipe E-book (pdf) you will get with this Vegan Box. Easy recipes for making plant milks, vegan yogurts, juices and great ideas for cooking with the plant milks and its remaining pulps. You can download the E-book from your email after making your purchase.
Zero waste packaging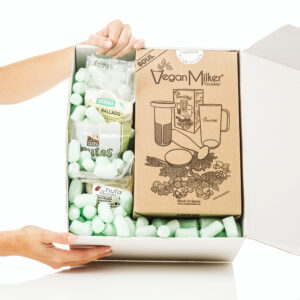 We like to be congruent with our company values on ecology and sustainability and we are taking small steps that we hope will have big consequences in the future.
We have approached the Vegan Box gift proposal from this perspective of responsibility towards the environment and we have managed to design a beautiful and perfect packaging.
The person who opens the gift will find that the elements that make up the Vegan Box are contained in a cardboard box filled with corn husks to ensure effective cushioning that protects the goods at all times. This filling material is made of corn, so it is organic and perfectly compostable. It can even be given a second life as a raw material for all type of crafts.
A cardboard box is used as a gift box and to give it a special touch, we added a red ribbon and a decorative sticker. As you can see, it is a simple, elegant and above all, organic wrapping.
What more do you need to steaming life?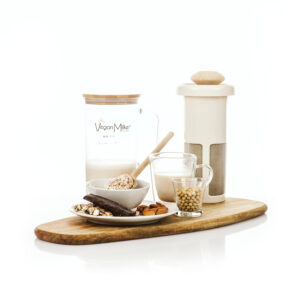 In the last 9 years we have seen that those who start using a Vegan Milker loves the original taste of natural plant-based milks. The authentic plant milk is full of nutrients and has different textures that simply disappear in packaged milk.
This makes you feel more connected to nature and stimulates your imagination. In a few days you will feel like trying plant milks from all kinds of seeds and you will discover a natural impulse to recycle leftover pulp. Could you get more benefit of a seed? You will be amazed at what you could cook with just a handful of seeds!
Without a doubt, homemade plant-based milks will bring life to your diet and your organism, and in the process, improve the life of the planet by minimizing the carbon footprint we are responsible for.
Does the Vegan Box appeal to you?
Then go for it!  It's a limited edition, available only for Europe.