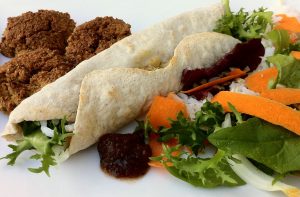 Our friend Ainhoa (Araba, Euskadi) has taught us this recipe. She is an excellent cook, as well as being a "Chufamixer". She has shown us a simple trick for recycling the pulp of oat milk made from flakes. It turns out that this pulp is perfect for mixing with flour to make "tacos" (also known as "chapatis" or "talos") for breakfast or for dinner. The process takes, at the most, 15 minutes. Let's see how to make them!
Ingredients:
Leftover oat milk pulp (50 grammes of dry oat flakes)
50 grammes of wheat flour* (or strong flour)
a teaspoon of olive oil
a pinch of salt
*It's best to use the wheaten flour with the highest gluten content, which is used for traditional baking, so that the dough is as flexible as possible.
Preparation: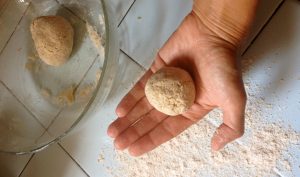 Put the oat pulp together with the same amount of wheat flour *(1:1) into a bowl. Knead the mixture and gradually add flour until you get the texture of the dough required for the bread.
Once you have made a ball of dough which doesn't stick to your hands, you know it's ready for cooking.
How to make the chapati: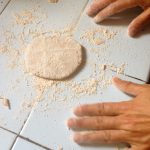 Dust the worktop with flour so that the dough doesn't stick.
Take a lump of dough about the size of a meatball, roll it between your hands and put it on the worktop.
Bang it with the palm of your hand to flatten it out (like a hamburger) and use a rolling pin to roll out the dough until it looks like a pizza base.
Be careful! When you roll out the dough, you need to dust the surface every now and then so that it doesn't stick…
In the meantime, put a pan on the cooker (with no oil) and when it is hot, put in the taco to heat it up.
After 10 minutes on a medium heat you'll have a delicious taco (or "chapati", "talo"..) , which can be eaten for breakfast, lunch or dinner.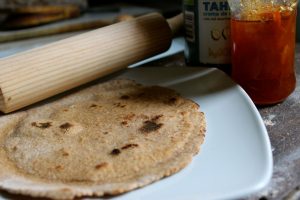 The taco is very versatile and can be filled with either sweet or savoury ingredients. It is better to roll it up when it's still warm, since once it's cold it loses its elasticity and might break when rolling.
Tips and alternatives
If you have any leftover dough, roll it in a ball and wrap it in a wet cloth so that it doesn't go dry. It will keep well for 24 hours at room temperature.
We have tried this same recipe with other flours, but the result has not been as good since, even though they taste great, the tacos are stiffer and more fragile.
If your dough is breaking easily, add one more teaspoon of oil to it.
Finally, if you don't feel like it or don't have time to knead the flour with the pulp, you can spread the pulp directly in the hot pan (without oil) and it will dry out until it becomes a thin oat biscuit perfect for breakfast.
I love learning the many options we have at our fingertips!
Thanks for your contribution Ainhoa!