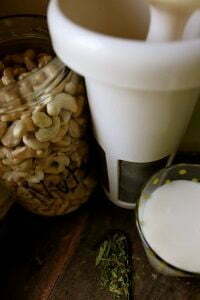 Cashew milk is a delicious creamy plant milk, which is gluten-free. In today's recipe, we propose sweetening the milk with stevia leaves, which is a very healthy alternative for improving the flavour and the medicinal properties of our plant milks.
Ingredients:
1 litre of water
120gr of cashew nuts
1 teaspoon of stevia herb
1 pinch of salt
Preparation:
1.Make an infusion in a coffee cup with the teaspoon of stevia.
2.Put the strained infusion in the ChufaMix container with ¾ litre of water.
3.Add the cashew nuts (they do not need soaking) to the filter glass together with a pinch of salt.
4.Insert the filter in the ChufaMix container and mix for about 1 minute.
5.Let the mixture brew for 10 minutes.
6.After the resting time, extract the filter glass and use the mortar to slowly crush the pulp to filter the last drops.
7.If the milk is not going to be consumed immediately, keep it in the fridge.

Tips and alternatives
This nut is so exquisite, it does not need added flavourings: cashew nuts, water and salt, are more than enough ingredients. However, you are obviously free to use any flavouring you wish; cinnamon, vanilla, ginger… but do always try use the most natural flavourings possible.
For more traditional palates, you could substitute the stevia for any other sweetener that you like: 2 dates, 1 tablespoon of syrup, cane sugar…
If you don't feel like making the stevia infusion, we can skip this step adding the teaspoon of stevia directly to the filter glass together with the other ingredients. In this case, the sweet flavour of the leaves will not be so strong.
The cashew nut pulp has a very oily texture similar to butter or nut cream. It's perfect for eating as it is, or for mixing with cocoa and making homemade "nutella" or vegetable pâté.
Like milk, the pulp lasts for 3 to 5 days in the fridge. But since it's so good, it normally disappears by the second day. It's simply irresistible!
For more information about the use of medicinal plants in our plant milks, have a look at the article: How to improve vegan milks with teas.