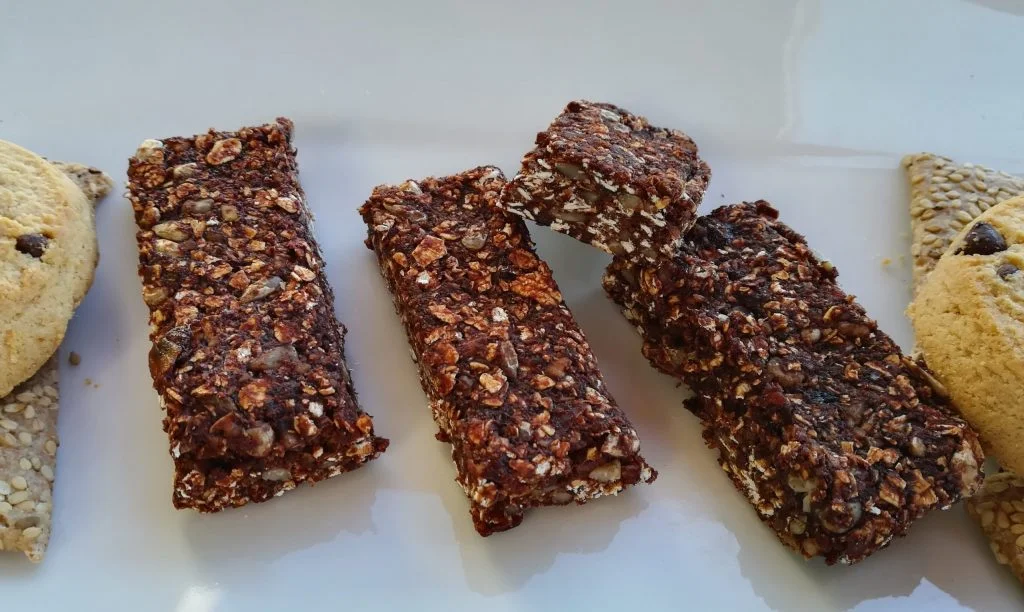 I wanted to show you one of my favorite recipes to use up leftover pulps from making homemade plant milks. This one, in particular, is made from some coconut and almond pulps that I had laying around in the freezer. However, this simple recipe is open to many variations, since you can use any other different ingredients you have on hand. Once you know how to prepare them (which is super easy!), you can switch up ingredients to your liking!
Not only do you get to recycle leftover pulps – making these bars is also a brilliant way to load them with seasonal nuts and fruit, so you can get a super healthy snack which is also affordable!
Making them at home, you also make sure that they're suitable for those of us suffering from allergies. Plus, at the bottom of this page, you can find a coeliac-friendly version!
Without further ado, let's get to the recipe!
On one hand, we've got dry ingredients:
On the other hand, there's wet ones:
150g medjool dates, pitted (this is a fleshier date variety)
100g prunes
Flavoring:
30g cacao powder (fair-trade is best!)
Instructions:
Whisk together almond and coconut pulp (thawed, if previously frozen), as well as sunflower seeds.
 With the help of a blender or food processor, puree prunes and dates. When smooth, add in cacao powder and keep blending. If the blender is not too powerful, is best to mix slowly so the motor isn't damaged.
 Mix both wet and dry dough until you obtain a solid, sticky dough.
 Add in rolled oats and mix again.
 Line a tray with parchment paper and flatten the dough into a 1.5cm thick layer.
 Use a knife to divide the dough into pieces. This way, they'll be easier to bake.
 Preheat oven to 180ºC (375F). If using a wood oven, you might need just 10min on each side at 150ºC. When ready, cut them into bars.
 Let them cool before keeping in an airtight jar. They will keep well for two weeks!
Tips and tricks
If using frozen pulps, thaw them beforehand.
It's useful to use coconut pulp to get a nicer texture.
To make a gluten-free version, replace the oats with gluten free seeds. If the pieces are too big, chop them beforehand so they're evenly divided among the dough.
Dry ingredients can be substituted by any seeds or nuts of your choice.
Wet ingredients can be substituted by one (100g) banana and 30ml syrup (or oil, if trying to avoid sweeteners)