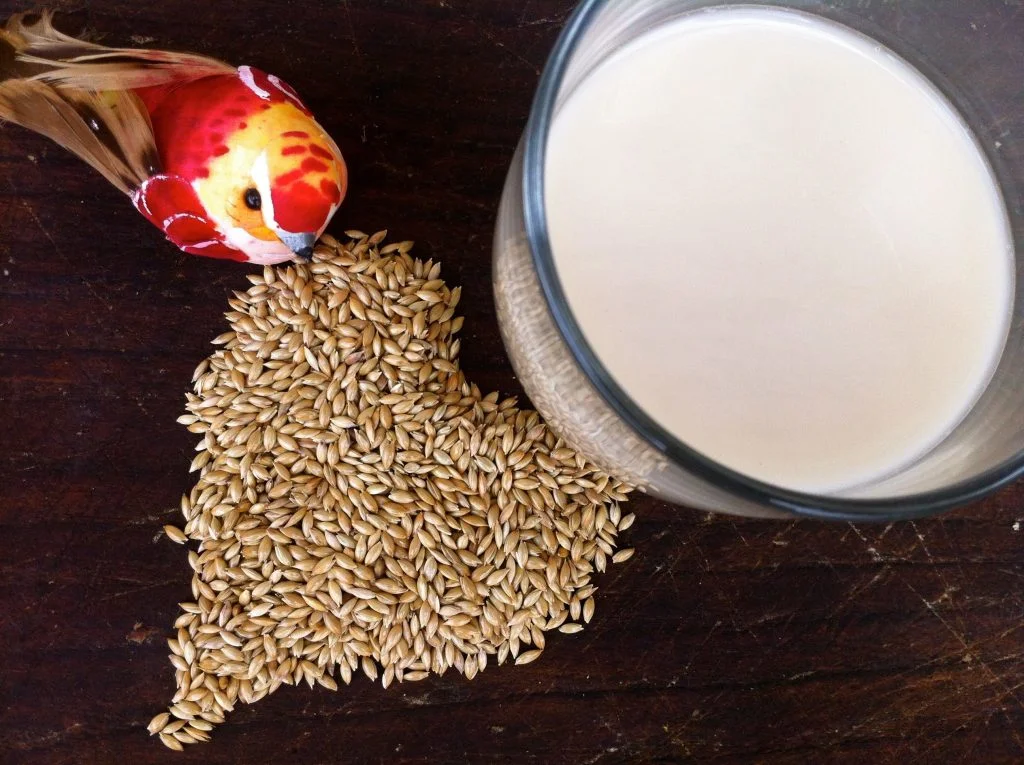 Canary seed milk is a homemade plant milk, which although it has a herbaceous taste is quite tasty. Canary seed milk is better known for its medicinal properties than for its culinary value.
When canary seed milk is homemade, that is, milk made at home with the Vegan Milker or using any other traditional method, it is not pasteurised, sterilised or homogenised, does not contain either gluten or lactose and has very, very interesting medicinal properties.
Here's a summary of its most significant properties:
Canary seed milk is

recommended for the treatment of illnesses like cirrhosis or liver diseases since it is capable of reducing the inflammation of organs such as the liver, kidneys and pancreas

. It recharges the kidneys with enzymes and helps to eliminate excess liquid.
It contains lipase, an enzyme which helps to

purify harmful fats in veins and arteries, as well as fat deposits by helping to burn the fat.

For this reason, canary seed milk is also recommended in diets and for weight loss in people suffering from obesity.
Canary milk also

helps to prevent arteriosclerosis and helps in cases of gout, oedemas, gastritis and stomach ulcers.

To these properties we can add other more common properties, which are no less important, such as the fact canary seed milk

contains a high percentage of antioxidants and vegetable proteins

.
| NUTRITIONAL VALUES | x 100 ml | x 250 ml | |
| --- | --- | --- | --- |
| Energy value | 23,90 | 59,9 | kcal |
| | 100,20 | 250,50 | kj |
| Fats | 0,30 | 0,90 | g |
| *of which saturated | 0,00 | 0,10 | g |
| Carbohydrates | 3,70 | 9,10 | g |
| *of which sugars | 0,00 | 0,10 | g |
| Dietary fiber | 0,50 | 1,10 | g |
| Proteins | 1,30 | 3,20 | g |
| Salt | 0,00 | 0,00 | g |
| | | | |
| VITAMINS AND MINERALS | | | |
| Calcium | 1,70 | 4,40 | mg |
| Iron | 0,00 | 0,00 | mg |
| Magnesium | 11,80 | 29,40 | mg |
| Phosphorus | 21,80 | 54,50 | mg |
Here's the recipe of homemade canary seed milk:
Ingredients:
100 grammes of canary seeds (for human consumption)
1 litre of water
a pinch of salt (optional)
Preparation method
(Small seeds milk method)
Soak the canary seeds overnight and the following day throw away the water they were soaking in.
Put ½ litre of water at room temperature in the Vegan Milker container and then put in the filter containing the canary seeds.
Mix for 1 or 2 minutes using the hand mixer on maximum power.
When the seeds have been well squeezed, add the remaining ½ litre of water and mix again, this time on the hand mixer's normal position for 15 seconds until all the milk is mixed well.
Let the milk rest for 5 minutes and then filter it with the help of the Vegan Milker mortar.
Keep the milk in the fridge.
We do not recommend drinking this milk every day. For 10 days drink a glass in the morning on an empty stomach and another at night and then stop the treatment. For more information on the subject, I suggest you consult your natural medicine specialist.
Tips and alternatives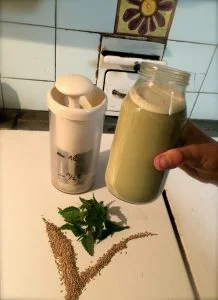 For canary seed milk it is always best to use water at room temperature so that it doesn't lose its medicinal properties.
If you want your canary seed milk, or any plant milk, to have extra calcium content, you can add nettles, sesame seeds, dates… Since we like to use what we have close at hand, we have improved our canary seeds milk with some nettles from the garden and it was very good!
Canary seed milk pulp is so fibrous that we don't know how to recycle it and we put it on the compost heap.