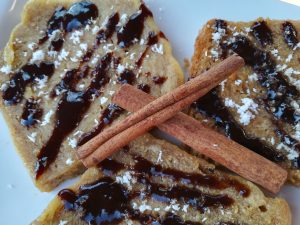 Torrijas are a traditional Spanish dessert, easy to make and also very affordable. In order to prepare this vegan twist on the recipe, all we need is a bit of stale wholegrain bread, some homemade plant milk, a bit of cinnnamon and also, chickpea flour. Today, we'll be using coconut milk, since it's higher in fat, which makes it perfect for desserts. Plus it's so easy to make with your Vegan Milker by Chufamix, as well as cheap, since you'll only need either a whole coconut of 100g of the shredded version, which is about 1 euro.
Here you have the recipe for both versions:


Ingredients for these coconut milk vegan torrijas:
400ml homemade coconut milk
A stick of cinnamon
Zest from one lemon (discard the white part as it's too bitter)
A tablespoon of coconut sugar (optional, can be subbed by any other sugar)
5 slices of stale spelt bread about 1-2cm thick (you can remove the crust so the torrijas turn out softer)
Vegan egg (mix 4 tablespoons (not heaped) of chickpea flour with 4 tablespooons of warm water or coconut milk. Mix well until smooth and lump-free)
Coconut cream and chocolate to decorate
Instructions:
Put 400ml of homemade coconut milk, a stick of cinnamon and lemon zest in a saucepan.
Heat on low for 10 minutes until milk is infused with the aroma of lemon and cinnamon.
Add sugar, if using, and heat on low for 5 extra minutes, stirring often and not letting the mixture boil.
Let milk chill before soaking the bread since, if it's too hot, it will cause the bread to crumble.
When milk has cooled off, line the bread slices in a tray and pour milk on top of them, letting them soak for 5 minutes on each side.
In the meantime, prepare the vegan egg by mixing the same amounts of chickpea flour and water or coconut milk, which should be warm to ensure that the final product is lump-free. For this recipe, we used 4 tablespoons of each.
Cover the milk-soaked bread slices in the vegan egg and fry until golden.
Now, you can decorate the torrijas as you fancy. I used the remaining milk and mixed it with some carob powder to make a delicious cream.
These torrijas turn out super tasty, and they're affordable to make too! Isn't it great how easy is it to eat healthily for cheap? Cheers!
You can find more torrija recipes here: