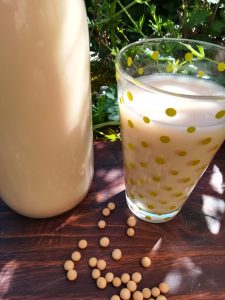 Not too long ago, we published our soya milk recipe, including a super fun tutorial recorded in Borneo (South Asia). As you know, soya milk is a traditional drink in many places around the world, especially in Asia and South America. However, nowadays, it's also popular all over Europe, since it's become a staple in vegan diets, among others.
At the time being, however, soy milk is quite a polemic one, and as a result, its consuption is decreasing. This is due to the highly industrialized process involved in soya production, which results in the destruction of big extensions of rainforest in the Amazons. You can read more about it in our post "Soya's Yin Yang".
On the other hand, it's so easy to use Vegan Milker to make milk from any other seed or grain, that we've focused our efforts in making milk from other less conflictive ingredients.
| NUTRITIONAL VALUES | x 100 ml | x 250 ml | |
| --- | --- | --- | --- |
| Energy value | 26,80 | 66,90 | kcal |
| | 112,00 | 280,10 | kj |
| Fats | 1,20 | 3,00 | g |
| *of which saturated | 0,20 | 0,40 | g |
| Carbohydrates | 1,30 | 3,10 | g |
| *of which saturated | 0,40 | 1,10 | g |
| Dietary fiber | 0,60 | 1,40 | g |
| Proteins | 2,20 | 5,50 | g |
| Salt | 0,00 | 0,00 | g |
| | | | |
| VITAMINS AND MINERALS | | | |
| Calcium | 16,60 | 41,60 | mg |
| Iron | 0,90 | 2,40 | mg |
| Magnesium | 16,80 | 42,00 | mg |
| Phosphorus | 42,20 | 105,60 | mg |
However, we recently received a question from a reader of ours, Concha Gómez, about homemade soya milk. She let us know that, when preparing the milk I told you about at the beginning of this very post, you get a small portion of thick cream which might make the milk a bit unappealing. How is it possible that we never knew it when we first developed the recipe?
It all came down to the filter change, since the holes in the mesh are slightly bigger and therefore can make for some problems when making soya milk the way we used to.
That's why we went back to the kitchen in order to develop a new and improved recipe.
Ingredients:
100 grams white soya (organic is best)
1 litre of warm water
A pinch of salt
Some flavourings such as vanilla, masala (one tablespoon and optional)
Instructions:
Soak soya beans for 8-12 hours.
Discard the soaking water and boil soya for an hour (with the lid on) or for 25 minutes if using a pressure cooking (in this case, you need to discard the soaking water too)
Put cooked soya beans and warm water (60-70ºC) in the Vegan Milker filter mesh and blend with an inmersion blender for a minute.
Release the filter attachment using the "express filtering" trick to aid the final press. It will be harder when using any cooked bean/grain/nut.
Press the pulp with the mortar to squeeze the last droplets of milk
The remaining pulp can be kept in the fridge and then used in other vegan or vegetarian recipes.
Tips and tricks:
1- Using this technique, you no longer get the cream layer when making soya milk. You can see the different in these two photos.
2- You can spice up this recipe with any flavoring that you'd like by adding a small spoonful of vanilla/masala/cinnamon to the filter. This will yield a spiced pulp, but it still can be used in many recipes.
3- The remaining pulp is called okara and can be used in both sweet and savory recipes.
Thanks for making us improve our recipe Concha! It's always nice to learn new things.
Cheers!