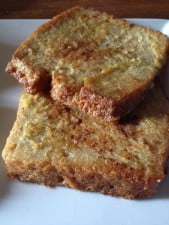 Making french toast with fresh rice and sesame milk.
Cheap, nutritious and delicious.
Let´s go !
Ingredients for making the milk:
40 grams of white rice
50 gr of toasted sesame seeds
1/2 litre of water
Ingredients to make the toast:
rice and sesame milk
12 slices of bread (white or brown)
whole cane sugar
1 teaspoon of cinnamon
a pinch of lemon zest
1 tablespoon of syrup ( agave or palm )
vegan egg*: mix 4 tablespoons (not heaped) of chickpea flour with 4 tablespooons of warm water or coconut milk. Mix well until smooth and lump-free.
sunflower oil
Preparation:
Wash rice with water thoroughly.
Add half a litre of warm water to the Vegan Milker by ChufaMix vase.
Put the filtering attachement in the vase, add raw rice, sésame seeds and salt, and blend everything for two minutes, using the most powerful setting your hand blender offers.
Remove the filtering attachement from the vase and lightly press the pulp with the morter so you can squeeze every reamaining bit of milk from the pulp.
Pour milk in a saucepan. Add the cinnamon, the lemon zest and sirop (optional).  Heat it on low hear for about 7 minutes, stirring often so it doesn't burn.
Strain the milk mixture and set aside to soak the bread. If we make the toast with dry white bread, cut the bread into 1 cm thick pieces, but if we use organic brown bread , it can be cut thinner, as it is much more solid.
Soak the slices of bread in milk for 10 minutes, then roll them in beaten egg before frying them in a pan with plenty of oil.
You can use some cane sugar and cinnamon to sprinkle on top of the toast.

A delicious and easy snack for the sweet toothed!