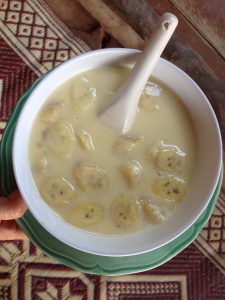 Coconut milk is a basic ingredient in lots of traditional recipes in Thai cooking. It´s gluten free and lactose free and so tasty, so it´s an interesting vegan milk option.
Up until now, our series of Thai recipes has included savoury dishes; red curry, Tom Yum soup…, so today we've decided to include a sweet dish.
"Gruad katí" is a soup made with coconut milk and little pieces of banana, which, since it is very filling can be taken as a breakfast, dessert or main dish.
Our dear contributer, Jan Swakon (Sunset Restaurant, Koh Lanta), shows us how to make it in this video.
Ingredients:
– ½ litre homemade coconut milk
– 2 bananas
– 2 teaspoons of syrup
– 1/2 teaspoon of salt
Preparation:
Put the coconut milk in a saucepan.
Add the salt and the syrup and mix well.
Heat the coconut milk over medium heat and add the pieces of banana. Cut the banana into more or less 1 cm slices (If you cut them very thin, they can break up with the heat).
Stir the mixture for about 3 minutes while it is cooking. If you cook it for longer than this the banana can get too soft.
Try some to see if it needs more salt or syrup.
Turn off the heat and serve in dessert bowls.
This dish can be eaten warm or hot.
Tips and alternatives
– If you don't have bananas or prefer to add another fruit there is no problem. It is very nice with pieces of peach or with both fruits.
– If you find it too sweet, just add less syrup (1 spoonful).
Easy, quick and super-nutritious.
See you soon!