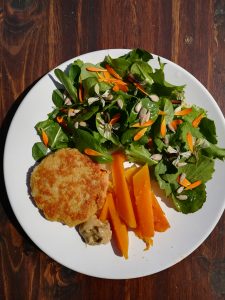 Ingredients (for 2 people)
The remaining pulp of an oats drink (1 cup of oats flakes or 100 gr of soy pulp)
100 gr of boiled cereals (rice, millet, spelt)
1 tablespoon ounces of whole flour
1 tea spoonful of soya sauce (soyu)
2 garlic cut in pieces
Curry, cumin, ginger
Salt
Preparation
First we mix the oats' pulp with the boiled cereals (when we cook cereals, we should remember to keep aside these 2 cups to mix it with the pulp at anytime).
Then we add the curry, garlic, ginger and salt. If we want to add vegetables or mushrooms this would be the right moment.
Then we add a teaspoon of soya sauce and we mix it all up.
When the dough is seasoned, we add the flour to be able to dry it and shape it.
Once the dough is done, we put a little of flour in our hand and we shape it giving it a hamburger shape.
We fry it with just a little bit of oil, and with a medium fire. Before putting them on the frying pan, you may put grated bread.
You may present them with chips and tomatoes. You may also freeze them to eat any other day. Enjoy!
Aware: if the dough is too humid we can add more flour, but be aware, because if we put more flour it will loose its flavour.