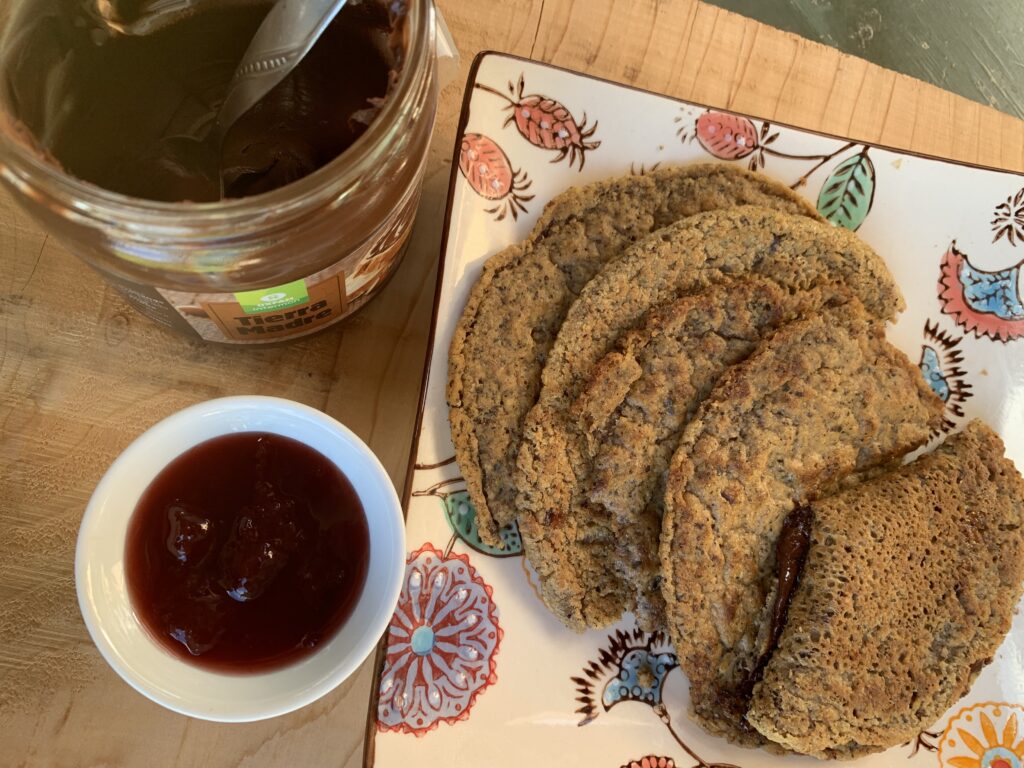 Recycling pulp leads us to find new textures and flavors like this vegan chai latte flavored pancakes recipe.
The idea of pancakes came after making a chai latte with Vegan Milker. I wanted to use the leftover pulp for some baking purposes, but at that time I didn't have an oven. So I decided to try making vegan pancakes. The result was surprising. The texture is more consistent than the traditional pancakes and besides, can you imagine the typical pancakes but with chai and almond flavor? A delicacy!
How to make the vegan version of pancakes?
To make the vegan version you must substitute the butter for vegetable margarine and the egg for vegan egg.
Depending on the effect we want to achieve, the vegan egg is made in a different way. Attention!
To substitute:
Egg white: mix 1 tablespoon of ground flaxseed with 3 tablespoons of water and stir. Let stand 5 minutes until it becomes a viscous liquid.
Egg yolk: mix 1 tablespoon of chickpea flour with 1 tablespoon of water and stir.
In this recipe, I am interested in having the whole egg, so I have prepared the white with the ground flax and after the 5 minutes I have added to this mixture 1 tablespoon of chickpea flour and mixed well again.
Vegan Chai Latte pancakes recipe
We have taken as a reference any traditional pancakes recipe and adapted it to the ingredients at hand.
Ingredients:
Chai latte pulp (Dry: 40g almonds / 20g oats / 1 tablespoon chai).
40g wheat flour
1 flax egg (see explanation in the previous section)
1 tablespoon chickpea flour
¼ teaspoon of yeast (5 g)
100ml homemade oat milk
100g vegetable butter or margarine
Preparation:
Preparation time: 20 minutes.
Mix the flour and yeast in a bowl.
Add the pulp and the vegan egg and mix again.
To finish the mixture, add the oat milk and stir everything well until a homogeneous dough is obtained. We will have a consistent but liquid dough.
Cover the bowl with a cloth and let it rest at room temperature for 15 minutes for the yeast to take effect.
Heat a frying pan with a knob of margarine until it melts and covers the entire surface.
Pour a little batter with a ladle and spread it well over the entire surface with the help of a cat's tongue. It should be a thin cake of 2-3mm.
Wait for the dough to heat up and bubble from the heat. Let it cook for 5 minutes over medium heat.
Turn over and cook the pancake a little more until golden brown.
Remove them to a plate. They should be fluffy and flexible.
Tips and alternatives
Serve with cocoa cream, jam or savory toppings, whatever you prefer!
If they are not going to be consumed at the moment they can be kept in the refrigerator for another occasion.
You may also be interested in: