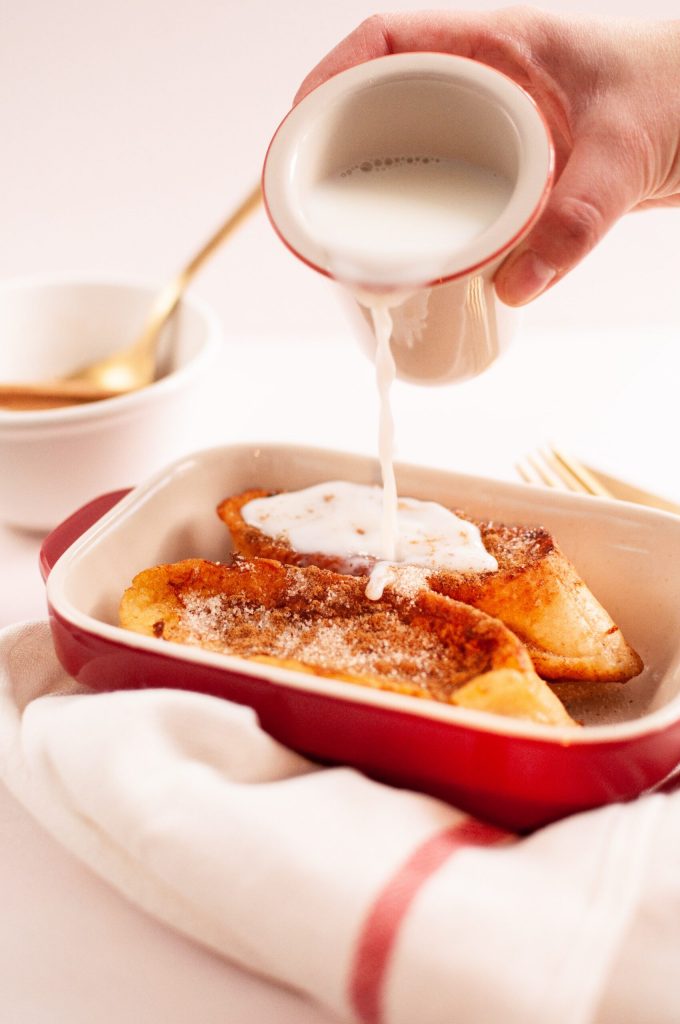 We'll share with you some ideas for making vegan torrijas that are also gluten-free so that you can share them with all the family.
Spanish Torrijas are an easy-to-make dessert that is very popular in the european cuisine. It is also known throughout Europe as tostées dorées, pain perdu, payn purdyeu or french toast.
Simple yet delicious, it's made by recycling stale bread, making it very cheap meal. Although it's a typical Easter recipe, it can be made all year round.
The stale bread is soaked in flavoured milk (vanilla, cinnamon, cocoa) or soaked in plant milks with exquisite flavours such as tiger nut milk, hazelnut milk, coconut milk….
After soaking the stale bread in the warm milk, it's dipped in beaten egg and fried in a frying pan with oil. To finish the recipe, the torrija is sprinkled with sugar, cinnamon or other typical pastry flavourings.
As you can see, the classic torrija recipe is not a vegan recipe, but like any other recipe, a vegan version can be created by substituting the animal ingredients with plant milk and vegan eggs.
To make your own plant milk you'll find a lot of recipes in the PLANT MILK section of this blog. Any of them can be used to make special torrijas that have nothing to envy to the traditional ones, or even surpass them!
HOW TO MAKE VEGAN EGGS FOR TORRIJAS?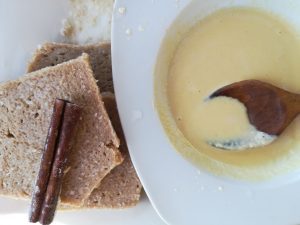 There are also different alternatives for making vegan eggs. The one I use in these torrijas recipes is very simple. Mix a spoonful of chickpea flour with a spoonful of warm water or plant milk. Then stir well so that there are no lumps and that's it!
There are other ways of making vegan eggs that are just as valid as the one I have presented. The important thing, is that it should be easy to make with the ingredients we have on hand and use regularly.
VEGAN TORRIJAS:
For the past 4 years, around this time, we have been posting vegan torrijas recipes on this blog, each one more appetising than the last. It's a pleasure to try them, as the result of our experiments is usually a delicious dessert.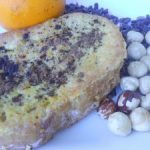 The vegan torrijas recipes that I've compiled for this article are all gluten-free, so they are suitable for people with coeliac disease and, of course, for the rest of the world too!
We wanted to bring them all together and offer you this variety of options that we have created to stimulate your culinary imagination with respect to the classic torrija.
We hope it will inspire you and encourage you to create your own version of vegan torrijas that you will surely enjoy with the pleasure of eating healthy and also created by yourself.
As we leave the classic recipes and experiment with other ingredients, thousands of possibilities open up and we want to try them all! This is how we rediscover the pleasure of creative and healthing eating, nutritiously and that permits recycling food we have in our kitchen. Do you know what I mean?

Here are 4 original recipes to make delicious gluten-free vegan torrijas:
I hope they inspire and encourage you to create your own versions of vegan torrijas recipes. By the way, I will be happy to meet them! Cheers!