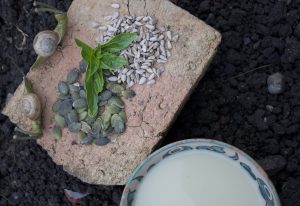 Although most people have never heard of sunflower seed milk, it is one of the plant milks with most protein content. It is creamy and contains neither gluten nor lactose and is suitable for people with nut allergies.
In Chufamix, we normally use the sunflower seeds as an additional ingredient to enhance other vegan plant milks which are low in healthy acid fats (omegas), like rice milk, or/and  to make them creamier. To do this you just need to mix a tablespoon of sunflower seeds with the other ingredients into the filtering glass of Chufamix.
But today we wanted to show you how to use this seed as the main ingredient of the vegan milk, since it is just as good as almond milk, but is cheaper to make (0.70 €/litre) and in some cases, we are evenhelping local businesses.
If you like the taste of sunflower or pumpkin seeds, you will love its plant milk!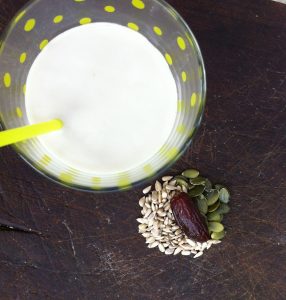 Ingredients:
1 litre of water
50g organic sunflower seeds
50g organic pumpkin seeds
2 stoned dates
1 sprig of basil (optional)
We have divided the 100 grammes of seeds between sunflower seeds and pumpkin seeds, but the sunflower seeds milk can be made solely using 100 grammes of them.
Preparation:
Since the seeds are small, they need to be mixed with a little water so that the extraction is as efficient as possible!
Put half a litre of water, or a little less, into the Chufamix container.
Insert the filter glass into the container and add the seeds together with the other ingredients.
Mix with the hand mixer for about a minute. (If they don't squeeze well, use the mixer's turbo position).
Once you have the milk, add water to make up the litre and mix again. This time 15 seconds should be enough.
Leave to rest 10 minutes and then remove the filter glass and squeeze the pulp with the mortar to filter the last drops of the milk.
Keep the milk in the fridge.
Tips and alternatives
The leftover pulp is an exquisite paste that can be eaten as it is or recycled in various sweet or savoury dishes; chocolate cream, raw paté, hummus, guacamole…  The pulp section of this blog contains several ideas.
Enjoy with simple, tasty and healthy vegan recipes.
Do it yourself!