Here at ChufaMix, there's nothing we like better than recycling (and upgrading!) leftover pulp from making homemade milk.
We've got a fantastic chocolate chip cookie recipe coming for you today! It's made from leftover almond pulp and every bit as delicious as a good ol' cookie. This is a recipe by Consuelo (@earthlytaste), one of ChufaMix's lovely collaborators. We're super happy to count on her to provide such wonderful, vegan recipes – and if you'd like to see more, check out her blog www.earthlytaste.com, where you'll find all kind of ridiculously delicious recipes!
My favourite thing has to be all those breakfast spreads she makes. If only I could grab @earthlytastehose goodies through the screen!
Let's get to the cookie recipe, shall we?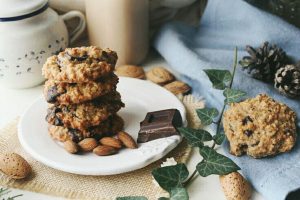 Ingredients:
120 grams leftover almond pulp
50 grams rolled oats
3 tablespoons (45ml.) coconut oil
50 grams coconut sugar
45 grams almond butter
1 teaspoon vanilla extract
¼ teaspoon baking poder
1 cup chocolate chips
Instructions:
1.Let almond pulp chill in the fridge overnight.
2.Whisk together rolled oats, sugar and baking powder.
3.Stir almond pulp, melted coconut oil, almond butter and vanilla in another bowl.
4.Stir dry components into wet ones.
5.Add in chocolate chips and stir to combine.
6.Preheat oven to 200ºC and bake for 8-10 minutes.
7.Cookies will be a bit soft straight out of the oven, but they harden as they cool!
8.Enjoy these with a tall glass of cold almond milk!
Tips and tricks:
You can use any other nut pulp you have on hand: hazelnut, walnut, pistachio, etc…
More ideas to recycle almond milk's remaining pulp in this video: