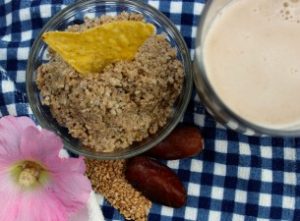 This recipe is a collaboration of our dear nutritionist Anne-Lie, from Sweden (www.aevum.se). She is a really nice raw cook.
Remember that to make plant milks with little seeds, like sesame, quinoa, hemp… we must to blend the seeds using 1/2 litre of water.
Let´s see how to make it!
Ingredients:
½ liter of hot water (60 º)

60gr of toasted sesame

2 pitted dates

¼ teaspoon of vanilla

salt (optional)
Preparation:
Soak the sesame in water for at least two hours.

After removing the water and place the sesame in the filtering glass.

Add the hot water and all of the ingredients that we´ve mentioned above.

We always make this milk using ½ liter of water because it´s an essential trick to squeeze the little seeds better. 
Water temperature
Warm water ( 60 ° C ) is used to make sesame milk. Another option is to substitute the hot water with a hot tea, adding flavour to the milk. For example, some people use stevia tea to sweeten the milk instead of adding other sweeteners.

Tips and Alternatives
If the sesame is not toasted

, you can roast it to make it more digestible .

Roasting seeds is very easy: put the seeds into a hot pan without oil for about 1 to 3 minutes. It is easy to know when it is ready , because it smells very good.

If you do not have vanilla , you can add a pinch of cinnamon instead.
In the case of sesame , the resulting pulp is delicious to spread on toast for breakfast, to put in yogurt or to make a homemade pate by adding garlic, steamed artichoke and a little lemon juice for flavour. It can also be used to make oriental sweets as sesame is the main ingredient in Oriental pastries. For more ideas on how to recycle pulps, click here.
Thanks Anne_Lie !