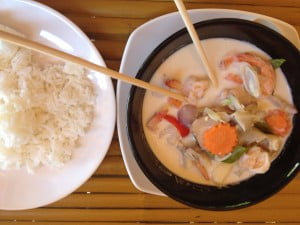 Sawadi ka, Chufamix friends!
Here is another savoury thai recipe with coconut milk. In the last video about thai cooking we promised you the "Tom Yum" recipe. It is an excellent Thai soup with coconut milk and full of all types of vegetables and shellfish. If you are vegan, can substitute shellfish with mushrooms and tofu.
The cook is our Thailandese collaborator Jan Swakon from the Sunset Restaurant in Koh Lanta (Thailand)
Let´s see the video. Below in the video there are all the instructions. We invite you to taste Thai flavours in your kitchen,
they are really nice!
Ingredients:
-1 cup of homemade coconut milk
-1 lemon leaf
-a piece of lemongrass
-2 cloves of garlic
-1 small onion
-a piece of carrot
-a piece of cauliflower
-2 mushrooms
-7 prawns (optional)
-1 chilly (optional)
-1/2 lemon juice
-soy sauce
Preparation
Clean and chop the vegetables.
Heat up a cup of homemade coconut milk in a saucepan and add the vegetables.
After adding the vegetables, add the flavourings; soy sauce, chicken paste (optional), lemon leaves, and lemongrass.
Boil the soup for about 5 minutes.
After 3 minutes, add some prawns, a bit of lemon juice and chilli (optional).
Serve the soup with a bowl of rice. It´s delicious!
Tips and alternatives
The vegan version uses tofu and mushrooms instead of shellfish. You can also avoid using the chicken paste. The mixture of the coconut milk with soy sauce, lemon juice, vegetables and spices is tasty enough.
Thank you Jan for your big smile and for sharing the secrets of the original Thai recipes with us.
In the next video recipe there will be a sweet meal named "Gruad kati" or Banana in Coconut milk. It is an ideal dessert or breakfast recipe.
Have a nice day and enjoy cooking healthy and tasty!