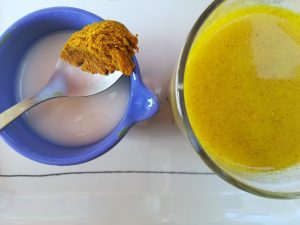 Golden milk is an ancient drink which is lovely to have during autumn. This fabulous recipe was shared by our Chufamix friend Briguitte Andreae a few months ago, since it's a brilliant remedy for those cases of winter blues.
It's all about making a lovely, aromatic golden paste that you can use to infuse all of your favourite plant milks, from almond to coconut, oat or sunflower seed milk. Plus it's a fantastic substitute for coffee and tea, in case you're not a fan of those.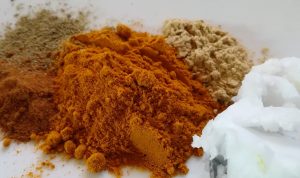 Ingredients for the golden paste:
10 cl. Water
2 tbsp. turmeric powder
A pinch of black pepper
1 teaspoon ground ginger
1 teaspoon ground cinnamon
1 teaspoon ground cardamom (or three small cardamom seeds)
1 tbsp. coconut oil
Instructions:
Let's start by preparing the paste.
Heat water and spices on low heat for 5 minutes, stirring often so the mixture doesn't burn.
Add the coconut oil and stir to combine.
Once made, this paste lasts for up to 1-2 weeks in the fridge. It will get thicker as it sits, which is a totally normal part of the process.
To make the milk, mix 1-2 tsp. of this paste with a cup of warm plant milk and optional sweeter (optional).
Thank you Brigitte and all of the Chufamix community for sharing all of your wonderful ideas and make this adventure such a fantastic one!
Cheers to golden milk! We hope you love it!