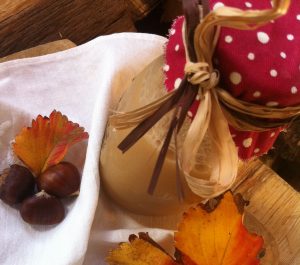 Let's start the autumn off right with a fitting seasonal milk: chestnut milk. It is a gluten-free milk very easy to please any palate.
Chestnuts nutritional properties
If you're a fan of chestnuts, you absolutely need to try this milk. Not only is it delicious, but it's also really wholesome. It contains a hefty amount of low GI carbohydrates, vitamin B, iron, potassium and fibre. It's also gluten and dairy-free approved and low in calories, even. What more could you ask for?
Chestnut milk recipe
Chestnut milk can be made in a couple different ways, but my favourite one is when you use roasted chestnuts. You can roast them at home or buy them like that, usually from street vendors who you can find during autumn/winter.
All that you need to make this delicious drink is a Vegan Milker, a hand blender and 5 minutes of your time. Let's get to it!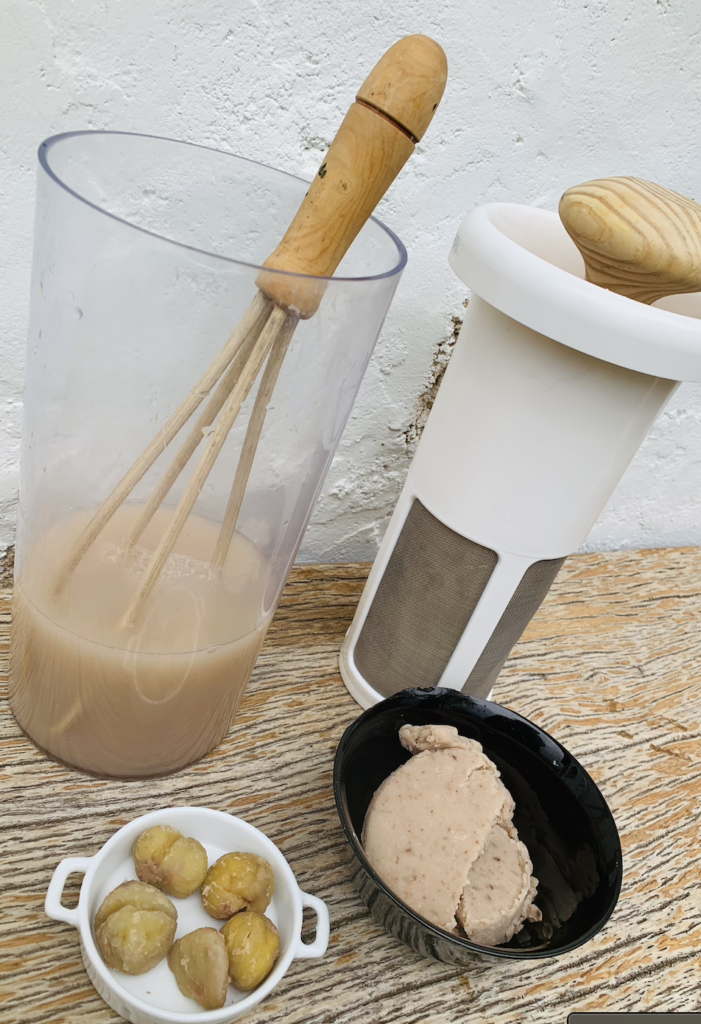 Ingredients
1 litre of water of hot water (60ºC)
24 peeled roasted chestnuts (must be soaked for 8 hours)
2 tablespoons raw cane sugar
A pinch of salt
Preparation:
Preparation time: 5 minutes.
Fill the Vegan Milker jar with a litre of hot water.
Put the previously soaked chesnuts, sugar and salt into the filter and place the filter into the jar.
Blend for a minute until chesnuts are completely reduced to crumbs.
Let mixture chill for 10 minutes.
De-attach the filtre using the express press trick.
Using the mortar, squeeze the last droplets of milk out of the pulp.
Keep in the refrigerator and shake well before serving.
Remember than milk will always taste better after 2 hours, when it's had time to chill and develop the flavours. If it's still too bland for you, you can add yur favourite sweetener (cinnamon, syrup, vanilla, etc) and blend again.
Chestnut milk with cooked chestnuts
If you use cooked chestnuts, you should add 300 g of chestnuts per liter because part of the flavor remains in the cooking water.
To cook the chestnuts, first remove the hard shell from the chestnuts and cook them in a pressure cooker for 5 minutes.
After this time, discard the cooking water and remove the second skin.
They are now ready to make the chestnut milk!
UPCYCLE THE PULP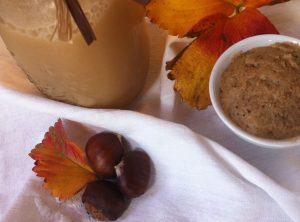 The remaining pulp serves as a lovely chestnut cream which needs no help from other ingredients and can be devoured just like that. If you're into cooking, you can check out the pulp section of this blog and take some wonderful ideas on how to upcycle all kinds of pulp to make delicious plant-based meals.
You could also dry out the pulp at a low temperature in the oven or even sun-dry it!
If you cannot using right away, feel free to freeze it. Don't throw it away, it's so good that it would be a complete waste!
What a way to start the year off right! Cheers!