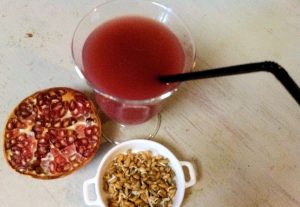 Munching on pomegranate arils or drinking their juice during winter is such a healthy option. Pomegranates are known to be a fruit rich in mineral salts, water and vitamins (A, B and K, among others). They also have lots of antioxidant properties, thus reducing the effect of free radicals. Want to hear more? They're also high in iron, calcium, potassium, phosphorus, magnesium and a bit of manganese and zinc.
Thanks to ChufaMix's filter, it's super easy to make your own fruit juice. If you go for juicy fruits (like orange, grapefruit, pear or grape), you wouldn't need to use any extra water. Is it fleshy fruit you'd like to go for? Apples, banana, pomegranate or blackberries maybe? Then you'll be better off adding a bit of water so it's easier to filter the mixture and obtain more juice!
Now… what would happen if you were to use enzymatic water (Rejuvelac) instead of plain mineral water? You'd get a juice with probiotic properties! How cool is that?
This is one of kitchenculture's ideas, which we decided to try using lovely Winter fruits! She's a fan of mixing enzymatic water (also called "rejuvelac") with fruit, tea or even coffee, as a way to make natural probiotic drinks. This is also a great way to drink enzimatic water (which we all know it's not too tasty drunk on its own, is it?). Personally, we were in love with the probiotic orange drink we made. Yes, using enzymatic water did reduce that taste of orange quite a bit, but the flavour was amazing nonetheless and it was such a fun way to add some extra protein + vitamins to the mix!
Here's how to make one amazing probiotic pomegranate juice: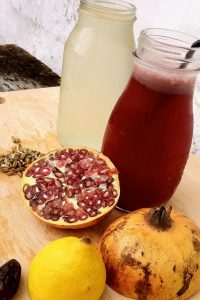 Ingredients:
½ litre enzimatic water
1 big pomegranate or 2 small ones
½ tbsp. agave syrup
A couple of lemon juice drops
Instructions:
Put ½ litre enzimatic water into the ChufaMix jar.
Peel the pomegranate, making sure you toss all the white peel bits since they could make the juice bitter.
Put the pomegranate arils inside the filter and add some lemon juice and agave syrup.
Place the filter inside the jar and blend until all the fruit is pureed. This should take about one minute.
Remove the filter, place the blender inside the jar and blend as shown in this video.
Lastly, use the morter to squeeze the last remainings of juice off the arils.
This juice turns out like a milder grape juice – it's so nice!
It keeps for 3-5 days in the fridge. Remember not to drink more than one glass a day!
Tips and tricks:
You can add some extra lemon/orange juice if the juice is too mild for you. Some dates or even ginger would work great as well. Simply add them to the filter and blend everything together. Any combo you fancy will work, really!
Instead of pomegranate you can use any other seasonal fruit: orange, pear, apple… or even summer fruit like peaches or strawberries!
Looking for other ways to use up enzimatic water? It works so well when fermenting vegan cheeses and yogurt!
I'm pretty sure some of you have already tried some versions of enzimatic water. It'd be so lovely if this article is helpful for you and makes you want to try even more combos. I'd absolutely love it if you could share them here so we can all discover the wonders of natural, plant-based food.
Cheers!