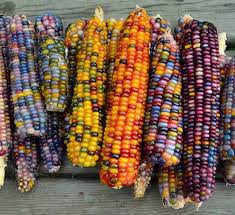 I'd been wanting to experiment with corn for a long, long time. Is not it such a great grain? I've been lucky enough to try white, black, red and golden corn, and both purple and blue are on my list as well.
Also, I've been really curious to see how making milk from corn would turn out. In my mid, I expected to obtain a sweet, creamy milk, just like it happens with other grains. However, that wasn't the case. Homemade corn milk, just like millet milk, is a light, thin milk with a slight hint of sweetness.
Ingredients:
100g organic corn (I used yellow corn, the kind you'd use to make popcorn)
1 litre hot water
A chunk of vanilla bean
A pinch of salt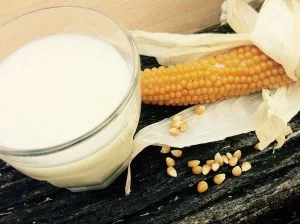 Instructions:
Soak grains for 24 hours.
Discard soaking water and place corn in your Vegan Milker filtering jar with a chunk of vanilla bean and a pinch of salt.
Fill the jar with 200mL of hot water and blend using the turbo setting in your hand blender for 2-3 minutes. You'll see that the grains aren't completely crushed, but it's okay because the juices can be extracted just fine.
Add the rest of the hot water and blend again to mix everything together. 10 seconds will suffice.
Now, de-attach the filtering jar and press the pulp with the mortar to squeeze the last droplets of milk.
Heat on low-medium heat for 7 minutes. In case that there's some foam in the surface, use a wooden spoon to remove it.
Tips and tricks
The resulting milk is thin and slightly sweet. You may add an exotic touch subbing vanilla with other spices and adding things like dates, turmeric, cacao, coconut sugar, etc…
In an attempt of re-using the pulp, I tried making corn flour, but I don't think it's possible to succesfully do so without a proper kitchen robot. Anyway, you can add the pulp to soups and stews as per usual, though it's best if you let it cook for about 30 minutes.
You can get organic corn grain in most health food stores, and it's interesting to buy it in local markets to support local agriculture too.