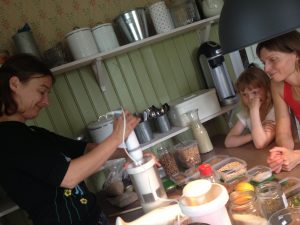 When we make plant milk using nuts, tigernuts or soya, the Vegan Milker filter fills up with pulp. The same thing happens with some juices which have a lot of pulp, like grape juice.
In these cases, before putting in the mortar for the final pressing, we stir the pulp with a wooden spoon in order to make the sieving process easier. Today's tip substitutes the use of the wooden spoon.
We got this idea from a ChufaMix user during a vegan fair. We were making almond milk and just when we were sieving it, one of the people who was watching our demonstration suggested this trick and we thought it was a brilliant idea! I don't know why we didn't think of it before!
What you need to do is, once you have removed the filter glass, instead of using the wooden spoon, keep mixing the pulp with the hand mixer. This way we produce enough centrifugal force to make the milk or juice retained in the pulp go through the filter quickly and easily. You can see how it works in this video.
To finish the sieving process, we press the pulp (which will already be semi-dry) with the ChufaMix mortar.
We are so excited about this little discovery!
We're sure that there are more ChufaMixer tips worth sharing out there.
If you have one, let us know!
For more information have a look at the tips and tricks section of our blog.