Rice milk is a very ancient and common vegan milk all over the world. It's lactose and gluten free dairy alternative.
You can make rice milk with whole rice seeds, with white rice, with rice flakes or with cooked rice also… We've tried all types with the Vegan Milker by Chufamix and we prefer the raw seed or flakes.
| NUTRITIONAL VALUES | x 100 ml | x 250 ml | |
| --- | --- | --- | --- |
| Energy value | 8,40 | 20,90 | kcal |
| | 35,60 | 88,90 | kj |
| Fats | 0,00 | 0,10 | g |
| *of which saturated | 0,00 | 0,00 | g |
| Carbohydrates | 1,80 | 4,60 | g |
| *of which sugars | 0,00 | 0,00 | g |
| Dietary fiber | 0,00 | 0,10 | g |
| Proteins | 0,20 | 0,40 | g |
| Salt | 0,10 | 0,30 | g |
| | | | |
| VITAMINS and MINERALS | | | |
| Calcium | 0,20 | 0,50 | mg |
| Iron | 0,00 | 0,00 | mg |
| Magnesium | 0,80 | 2,10 | mg |
| Phosphorus | 2,60 | 6,50 | mg |
Rice milk can be used to drink cold, warm, hot with coffee or tea. You can use it also for cooking. We will tell you some tricks in the "cooking with vegan milks" section of the article.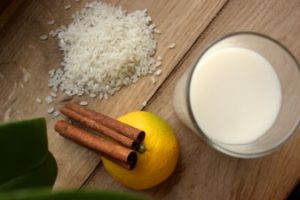 Let's see the recipe:
Ingredients:
100 gr of white rice (soaked overnight)
1 tablespoon of organic cane sugar (optional)
A pinch of cinnamon
A strip of lemon peel
A pinch of salt (optional)
Sweetener (optional)
Preparation
Soak the rice overnight, so that it becomes blander and more digestible.
The next day, put half a litre of hot water into the Vegan Milker container and add the filtering glass with all of the other ingredients inside.
Blend the mixture using the hand blender for 1-2 minutes.
Afterwards, add the other half litre of water. This time it doesn't have to be hot water because the main extraction has already been done.
Mix for another 30 seconds or so.
Strain the pulp from the milk using the mortar carefully not to break the filtering mesh.
If you have time, it's better to leave it marinating for 15 mins or so before straining. In this short amount of time, it improves the flavor.
Keep it in the fridge overnight to intensify the flavors even more.
Water temperature
Because rice is a cereal , you must extract its substances using hot water. That's why the first 1/2 litre of water has to be between 60-70º C.
But once you have done this process it's not necessary to use hot water again.
Tips and alternatives
Personally, I love this recipe with "basmati" rice because of it's special flavor, but it doesn't matter which type of rice you use.
If you prefer you can also use whole grain rice instead of white rice, however, it's quite difficult to digest, especially for children and people with delicate stomachs. So soaked the grain for at least 12 hours before blending it.
Sugar doesn't have to be added, or it can also be substituted by a tablespoon of syrup.
If you want to improve the calcium content of the rice milk, you can add a spoonful of roasted sesame seeds, in the filtering glass before blending.
The milk can be used to drink cold, warm, hot with the coffee or tea, or you can also use it for cooking. When you heat rice milk up it becomes very thick, us a bechamel. So it's perfect to make jelly desserts and bechamel.. 5 minutes cooking is enough.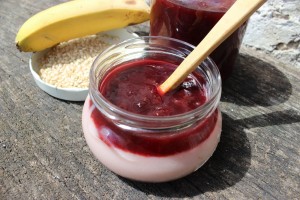 If you want to heat it up but mantein liquid, add water and make it lighter.
It can be stored in the fridge for 3-5 days. Each day the flavor will intensify.
The left over pulp is also perfect for cooking, so don't waste it! You can cook it with vegetables, add to veggie creams to make them more creamy, or you can add it to soup… Here you have some ideas about how to recycle the pulps.
Pay attention, here is an improved method to make raw rice milk