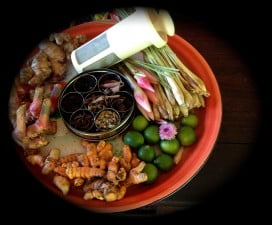 "Red curry"  is the 2nd video of the set of Jan´s thai recipes (www.facebook.com/Jandam/) on cooking with coconut milk. In the previous chapter we explained how to make traditional Thai coconut milk. Do you remember?
In this video we´ll learn how to make "Red curry". This recipe is a very well-known Thai meal, capable of causing a culinary orgasm to the most demanding palates.
The video gives you a full description from start to finish. But, if you prefer, I´ve included a typed version of the recipe below.
Ingredients:
– 2 cups of fresh vegetables
– 1 red chilly
– 2 spoonfulls of coconut milk
– 2 spoonfulls of water
– 1/2 teaspoon of red curry
– 1/2 teaspoon of sugar
– 1/2 teaspoon of chicken paste (optional)
– 1 spoonful of oyster sauce
– 1 spoonful of soy sauce
– 2 lemon leaves
Preparation
Firstly clean and dice the vegetables.
Put a little bit of oil and chopped garlic in a wok and heat it up.
When it starts smelling good, add the vegetables and a spoonful of water.
Then add the red curry and mix well.
Add the flavourings: oyster sauce, soy sauce, sugar and chicken paste (optional).
Stir the mixture and add the coconut milk and lemon leaves.
Stir again for 3 minutes and take it off the heat. The vegetables must be "al denté".
Serve with plain rice.
It´s both a very healthy and tasty recipe. Exotic flavours are a gift to our palates!
Coming soon, the next video recipe on how to make the famously named soup;
Would you lide to enjoy with all the thai recipes of Jan?
You have all of them in the "thai recipes" section of this blog.